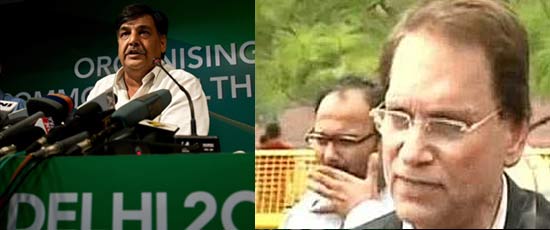 New Delhi, Nov 30: The CBI today booked Lalit Bhanot and V K Verma, two top aides of CWG Organising Committee chief Suresh Kalmadi, for criminal conspiracy and cheating in connection with alleged irregularities in a Rs 107 crore contract with a Swiss time-keeping company.
Bhanot, OC Secretary General, and Verma, Director General, were charged under sections 120B IPC (criminal conspiracy), 420 IPC (cheating) and various sections of the Prevention of Corruption Act besides Swizerland based firm Swiss Timing Ltd and other unknown persons, a CBI spokesperson said.
The agency carried out searches at 11 premises in the national capital region including residences of both Bhanot and Verma besides some other officials including R K Sacheti, Joint Director General (Coordination) and Sangeeta Welingkar, member of the Games Image and Look Group.
The agency claimed that "voluminous incriminating" documents have been recovered during the searches.
"It is alleged that the accused officers abused their official position and entered into criminal conspiracy with a Switzerland-based company and other unknown persons to cheat the Governemnt of India in awarding contract to the said company for acquiring Timing, Scoring and Result (TSR) System at exorbitant rates of Rs 107 crore thereby causing huge loss to the government," the spokesman said.
He said the Expression of Interest (EOI) was published announcing that only the Swiss firm met the laid down criteria.
"Subsequently, Request for proposal (RFP) was issued on October 1, 2009. This was surreptitiously amended on October 4, 2009 thereby making the bids even more restrictive. In response to RFP, two bids were received. However, the other firm (Spain-based) was allegedly wrongfully eliminated at the pre-qualification bid stage," the official said.
The searches were carried out in Gurgaon, Noida and the national capital including at the OC headquarters, the sources said.
This is the third FIR in connection with alleged irregularities in CWG projects. The CBI had earlier registered two FIRs in connection  with alleged irregularities in Queen's Baton Relay held in London last year and had arrested three former Games officials.
This is the first time that premises of both Bhanot and Verma, both considered close to Kalmadi, were searched.
While Verma has been questioned by the Enforcement Directorate a couple of times, Bhanot was also on their radar, the sources said.
Both Bhanot and Verma said all decisions were cleared by the "entire Executive Board" of the OC.
"Whatever the decisions have been taken, it has been taken jointly by the Board and it includes government members as well as other members from various federations, Bhanot said. PTI