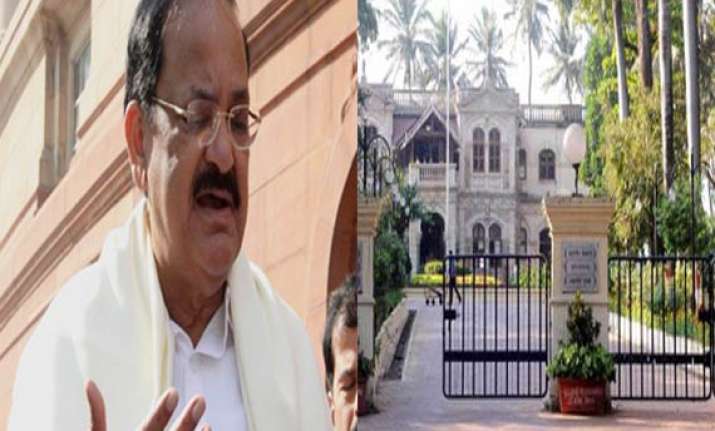 New Delhi:  The government today ruled out any change in the July 26 deadline for former ministers and
ex-MPs to vacate their bungalows, and eviction proceedings are likely to begin from Sunday.
Asked whether the deadline would be extended, Urban Development Minister Venkaiah Naidu replied in the negative.
"There is no further extension," he said.     
As per the data available with the Urban Development Ministry, about 20 former ministers and 128 ex-MPs have to vacate their government accommodation and their deadline is expiring on July 26.
The government had allowed the former Ministers and ex-MPs to stay on till June 26 after the formation of the National Democratic Alliance or NDA government, as per the law.
However, the deadline was then extended to July 26 considering pleas from many United Progressive Alliance or UPA ministers and former MPs.
According to a senior Urban Development Ministry official, full-fledged eviction proceedings will be launched from July 27 (Sunday).
The former Ministers who are facing eviction proceedings include Ajit Singh, Subodh Kant Sahai, Raghuvans Prasad, Sachin Pilot and TR Baalu among others.
While former minister Chiranjeevi has to vacate his house for Union Home Minister Rajnath Singh, Rajya Sabha member AK Antony and Rajeev Shukla have to move to a suitable accommodation from their current Type VIII bungalows allotted to Ministers.
They have to move to their new houses to be alloted by the Rajya Sabha secretariat, said the official.
The former ministers and ex-MPs who lost the elections are not entitled to government accommodation and have to move out but some who are Members of the Rajya Sabha and (they) have to move to suitable accommodation from their current addresses.
Many ministers and newly elected MPs are still staying state bhawans and Ashoka hotel awaiting their due accommodation in Lutyens' zone.
While Lalu Prasad has been given extension till October this year, family members of late Sisram Ola would be allowed to stay till next year.
Mallikarjun Kharge has been allowed to retain his house till a decision on the Leader of Opposition is taken, said the official.