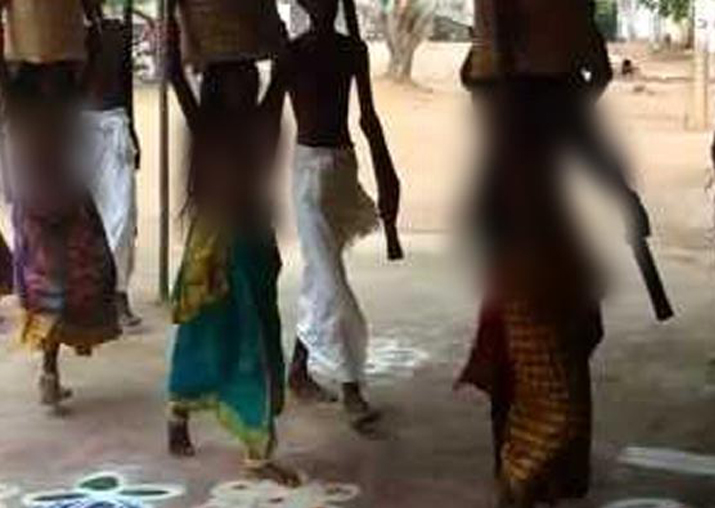 In a bizarre piece of news reported from Tamil Nadu's Madurai, seven girls who in pre-puberty stage, are forced to live topless at a temple here in the name of divinity. According to a report published in The Covai Post, all these girls are handpicked by the priest of temple and are made to live inside the temple for approximately a fortnight period.
As per the rituals, cited in the report, girls who have attained puberty are not allowed to take part. Locals say that this ritual of bequeathing girls to village deity Yezhaikaatha Amman is performed every year in order to bring progeny and prosperity. 
Shockingly, during these 15 days, all girls, aged between 10 and 14, are given silk sarees and gold ornaments to wear, but no upper wears are allowed. They wrap sarees around their body in a skirt form and paraded in front of the Yezhaikaatha Amman Temple at Vellalur. 
The Covai Post report mentioned that all these girls – who belong to the same community, are handpicks by the priest in the presence of their family members and villagers. After this, they are brought to the temple in the above mentioned fashion and made to live under the supervision of the priest.
MK Chinnathambi, the 7th generation priest of the temple, said that he select them without any bias and with the blessings of the deity. 
The male members of the 15 girls are allowed to stay in the temple premises at nights. In the mornings, women from their families visit them. 
Villagers say that this ritual is being conducted for several decades. A mother of one of the girls said that she has no remorse when her daughter, who was showing the signs of puberty, was picked for the religious practice.
After 15 days, all girls are made to walk with madhu kudam (pot containing a kind of beverage prepared from rice) on their heads to another temple in a neighbouring village.
Meanwhile, taking cognizance of the media reports, Madurai collector K Veera Raghava Rao said that he has asked the District Social Welfare Officer to visit the village and submit a report. The officer said that he has asked parents of the girls to ensure they are covered up properly.
"However, we are closely watching the ritual. There have been no complaints of sexual abuse and we will ensure that there is no space for any in the future as well. If there is a violation, law will take its course," the Collector told a news channel said.
The Covai Post report added that people from 62 villages take part in this religious exercise and worship the girls like goddesses.