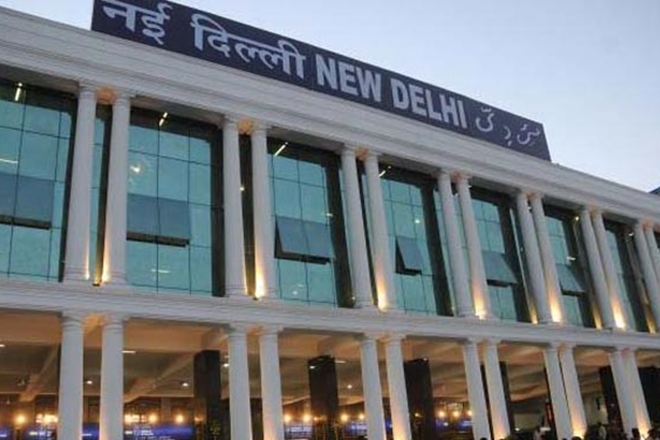 A skywalk connecting the New Delhi Railway Station with two metro lines, decongesting the Ajmeri Gate side of the station, will be completed within the next six months, the Northern Railways has said. 
New Delhi Railway Station handles more than four lakh passengers per day and the Ajmeri Gate side entry is the convergence hub of the Airport Metro, Yellow Line Metro and the DTC bus stop and therefore, the preferred entry for passengers.
"At present, passengers arriving by metro and public buses have to walk through the vehicular traffic to reach the station building. To resolve this problem and to facilitate the smooth movement of passengers, a skywalk is being constructed duly equipped with escalators and stairs.
"The work is being executed in close coordination with DMRC and will be completed within the next six months," the Northern Railways said in a statement.
Additionally, to handle the huge rush of passengers and vehicular traffic on the Ajmeri Gate side coming via the Bhavbhuti Marg, which many times causes massive traffic jams and congestion especially during peak hours, the entry road and circulating areas were being remodelled completely.
Presently, the entry to the New Delhi station from Bhavbhuti Marg on Ajmeri Gate side is zig-zag and narrow which is one of the reasons for traffic jams.
To eliminate the frequent jams and congestion of passengers and vehicular traffic, railways has planned a new direct entry road from Bhavbhuti Marg straight to the station with a green belt and footpaths on both sides of the road. 
Railways will also deploy traffic marshals to regulate the traffic and to prevent unauthorised parking, vending and encroachments in circulating area, which will eliminate traffic congestion and jams.
The entire circulating area is being re-developed with efficient drainage, high quality concrete roads with multiple lanes, landscaping, fountains, state of the art LED sign boards, with separate lanes and parking for autos, taxis and buses.
Ample space for parking and pick-up and drop area is also being earmarked for all modes of transport, the statement said. 
"The new skywalk will eliminate the cross movement of passengers from the metro stations to the New Delhi Railway Station and vice-versa," R N Singh, Divisional Railway Manager, Delhi, said.
He said the new wide approach road from the Bhav Bhuti Marg will ease the congestion in the circulating area.