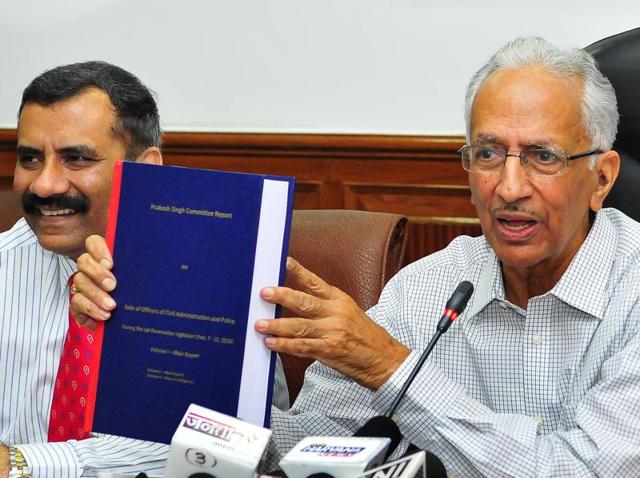 Former Uttar Pradesh DGP Prakash Singh on Thursday launched a stinging attack on Haryana Chief Minister Manohar Lal Khattar for his remark suggesting that Singh was seeking re-employment to present a report on police reforms in Haryana. 
"If they think that I need their naukri, lat mar dunga esi naukri ko. If somebody will talk to me about naukri, I will say just keep quiet and don't talk to me. Talking about employment is insult to me," Times of India quoted Prakash Singh as saying. 
On Wednesday, Khattar had told the Assembly that former IPS officer Prakash Singh, who filed a report into the Jat quota stir, "may have tried to force us" to allow him to present a second report but "it is up to the government to see".    
The Prakash Singh Commitee, which was appointed by the government to look into the violence during the Jat reservation protests in February in which 30 people were killed and more than 300 were injured, in its first report had indicted several administrative officials.
While appointing Prakash, the government had stated that he would also study structures, procedures and systems for maintenance of law and order in the state and suggest such improvements to prevent such incidents in future. 
Khattar told the Assembly that Prakash Singh wanted to give a second report on police reforms and modernisation etc.

 

"He (Prakash Singh) was hoping that he will get more time and we will appoint him (for another report on police reforms), but we told him there is material in the shape of books and suggestions on police reforms and modernisation given by him (Singh) earlier which is already available (in the public domain) and, if government wants to take it, we can take from there," Khattar said.
"He may have tried to force us for taking his services, but it is up to the government to see," he further added. 
Upset with Khattar's statement, Singh replied, "I am saddened that he (Khattar) has made such a statement. He had called me, so I had gone... I neither want employment nor re-engagement. Whatever work I have done was in public interest not because of money. I don't do any work for money."