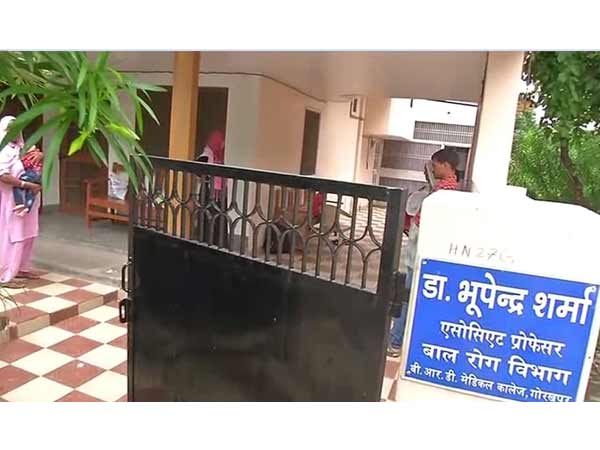 Amid the painful tragedy at Gorakhpur's BRD Medical College where over 70 children have died, another shocking revelation has exposed that several doctors at the hospital offer private services to the patients at their residence, despite strict restriction on it by the government, reported news agency ANI. 
The rules of the government-run hospital clearly state that the permanent doctors are not allowed to conduct private practices whatsoever. However, the contract-based doctors can follow such practices but only after completing their working hours and have to mandatorily provide proper information about the same to the state government. 
"The issue of private practice has been raised number of times earlier. A few years ago, no one had any private practice as such. But in a VIP case, a doctor cannot say no to examine the patient at home, but that cannot be termed as a private practice," K P Kushwaha, ex-principal of BRD medical college, told ANI. 
He also expressed disappointment over the tragedy and said that never in the history of the college has its been image been stained. "Even in 2005, there was an epidemic. But still everything was handled very smoothly," he said. 
According to the report, newly appointed nodal officer of pediatric department Dr Bhupendra examines patients at his residence. 
However, when asked about the same, he flatly rejected the report and refused to make any comment on camera. 
But there was a long queue of parents waiting to get their children examined by Dr Sharma at his residence. 
The father of one of the patients said that they used to visit BRD Hospital four years ago. Then someone from the hospital administration told them to take their child to the doctor's residence saying that "the child will get better treatment at home as compared to the hospital". 
While services in the government hospital are offered for free, doctors charge up to Rs 300 for examining the patient at their residence or private clinics. 
"The doctor will come here till 2 pm. They have charged me Rs 300. From past four years I am coming here. He is treating my child at home. The doctors at the hospital were not examining properly. Within two minutes they used to send us back," said Surender Kushwaha, father of one of the patients waiting outside Dr Sharma's house. 
Another doctor Dr Abhishek Singh was found to be running his private clinic. He is employed on a contractual basis at BRD and practices at Rana Hospital. 
Singh himself confirmed that he is on contractual basis and is completely eligible to do private practice. 
However, during investigation by ANI, it was found that Dr Singh reaches Rana Hospital at around 4 pm and even pays a visit during day time in case of emergencies.
Six more children die in BRD Medical College 
Six more children have died from encephalitis since Saturday at state-run BRD Medical College Hospital in Gorakhpur where the death of nearly 70 of them, including infants, has set off a nation-wide outrage and political recrimination.
Many of these deaths were alleged to have been caused by shortage of oxygen, a claim dismissed by the government.
Even as the authorities grappled with the situation in the aftermath of the tragedy which continued to unfold, additional director health Pushkar Anand today said these fresh deaths occurred between August 12 and 14.
"In the past three days -- from August 12 to August 14 -- six encephalitis patients, mostly children have died. In the same period, as many as 21 patients were admitted for treatment. At present nearly 75 encephalitis patients are undergoing treatment in the Baba Raghav Das Medical College Hospital," he said.
In state capital Lucknow, UP Congress leaders inclduing state party chief Raj Babbar staged a protest over the tragedy and many of them courted arrest. The Congress has been demanding the resignation of Chief Minister Yogi Adityanath and registration of a case of "murder" over the "massacre" of children.
BJP chief Amit Shah, who is in Bengaluru, rejected the demand for Adityanath's ouster, saying such incidents had also happened in states governed by the Congress.
"It is natural for Congress to ask for Yogiji's resignation. This is not the first time such an incident has taken place in this large country of ours. Such incidents have taken place during Congress rule in many states," he told reporters.
Replying to a query, Shah said unlike the Congress, BJP "does not hold anybody guilty" without investigation, which was on.
When asked why Prime Minister Narendra Modi, who often takes to microblogging website twitter to express his views, has not tweeted about the Gorakhpur tragedy yet, Shah said he has already voiced his grief over the deaths. "Twitter is not the only medium to convey a message," he said.