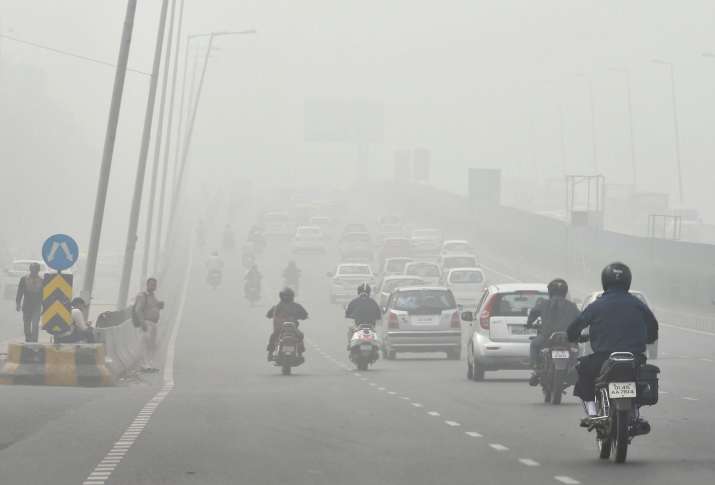 As a thick layer of smog continued to engulf Delhi on Wednesday, the Aam Aadmi Party government ordered all schools to remain shut till Sunday. The decision was announced by Delhi Education Minister Manish Sisodia who said there can be no compromise with the health of children. 
"The air quality is worsening in Delhi. In this case, we can not compromise with the health of children. All classes of private and government schools of Delhi have ordered to remain shut till Sunday," Sisodia said on Twitter. 
Residents of Delhi-NCR woke to up to another day of dense smog on Wednesday with Air Quality Index still in the 'hazardous' zone. The smog has brought down visibility levels, affecting flight and train operations on the second consecutive day. 
The visibility was recorded at 300 meters both at 5.30 AM and 8.30 AM. 
The minimum temperature settled at 14 degrees Celsius, even as humidity levels were high. 
The humidity was recorded at 98 per cent at 8.30 AM. The Met office has forecast clear skies for the rest of the day. 
With the air quality index scoring 448 on a scale of 500 on Tuesday, authorities announced a series of preventive measures including a four-fold hike in parking fees and slashing of metro fares.
The Supreme Court-mandated Environment Pollution (Prevention and Control) Authority, empowered to enforce the Graded Response Action Plan (GRAP), also directed the states in the region to start preparing for implementing measures like 'odd-even' in light of the "crisis situation". 
The EPCA has directed the municipal bodies in the region to immediately enhance parking fees by four times and instructed the Delhi Metro to lower fares during off-peak hours for at least 10 days, introduce more coaches and ensure frequent services. 
The primary schools in the national capital will also remain close today. 
The Indian Medical Association has said Delhi was witnessing a "public health emergency" and appealed to the government to stop outdoor sports and other such activities in schools to protect the health of children.
"PM10 is still at a dangerous level, but it is lesser than yesterday. Precautions recommended for 2 more days, try to stay indoors, do not go out for exercise or walks: IMA President Dr. KK Aggarwal said.