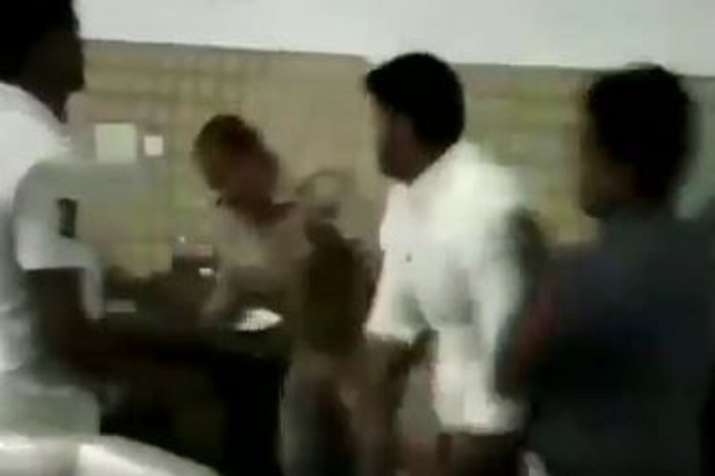 A Bharatiya Janata Party (BJP) councillor thrashed a police sub-inspector who had gone to his restaurant with a woman lawyer. The cop and the woman were said to be drunk.
A video, which went viral on social media on Saturday, shows Meerut ward no. 40 councillor Munish Kumar and the sub-inspector engaged in a heated exchange of words over some issue. Suddenly, the councillor launches an attack on the cop. The SI then falls on the ground. 
As the two continued to hurl abuses at each other, the woman lawyer starts throwing cutlery all around in a fit of rage. She is also heard hurling abuses at the councillor who was arrested later.
WATCH: BJP councillor thrashes 'drunk' cop inside restaurant in Meerut (The video contains strong language. Viewers discretion required)
#WATCH: BJP Councillor Manish thrashes a Sub-Inspector who came to his (Manish's) hotel with a lady lawyer and got into an argument with a waiter. The councillor has been arrested. (19.10.18) (Note- Strong Language) pic.twitter.com/aouSxyztSa

— ANI UP (@ANINewsUP) October 20, 2018
The Meerut Police said Munish Kumar has been arrested under Sections 395 and 354 of the Indian Penal Code (IPC).
However, BJP MP Vijaypal Singh Tomar came out in support of the councillor and said that both the SI and the woman were drunk.
"The BJP will not tolerate such hooliganism. The sub-inspector and the woman were drunk when they came to the  restaurant. When their order did not arrive after 10 minutes they started abusing hotel staff and throwing plates. He (the councillor)  beat him (SI) in self-defence," Tomar said.