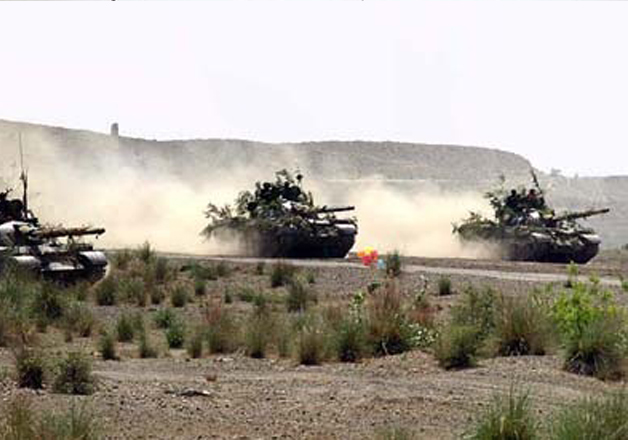 At least 300 Pakistan Air Force officers and 15,000 Army personnel have started a joint desert war game exercise just 15-20 km away from the international border adjoining Jaisalmer in Rajasthan. 
Sources said that the exercise, which is taking place in Rahimer Khan, Shadi ka Baad, Ghotaki, Meerpur Mentholo areas, started on September 22 and will continue till October 30. 
Massive movements of Army's vehicles and tankers have also been reported in the region. And as a precautionary measure, Indian establishments near the international border have been asked to keep a tight vigil and inform the government if any suspicious movement is reported.
The exercise comes in the backdrop of Uri terror attack that left 18 Indian jawans dead. India has blamed Pakistan for the ghastly attack with PM Narendra Modi saying that the 'sacrifice of jawans will not go in vain' and 'New Delhi will go all out to isolate Islamabad'. 
India has not retaliated with might following the attack, but has escalated diplomatic and other measures to hurt Pakistan. 
Sources said that besides several defence trials, testing of new equipments will also be done by the Pakistan Air Force and Army during the month-long exercise. 
Fighter aircrafts movement voice and tankers movement within the Pakistani border have also been noticed by the Indian jawans, sources said.
Several top Army officials have also reached here to take part in this morale-boosting exercise, they said.
Troops of 5 Core of Karachi, 2 Strike Core from Multan, Army's artillery, armed forces along with the troops of Tank Brigade are taking part in this huge war game exercise.
Apart from taking part in the exercise, Army personnel are also involved in cleaning up and maintenance works of bunkers.