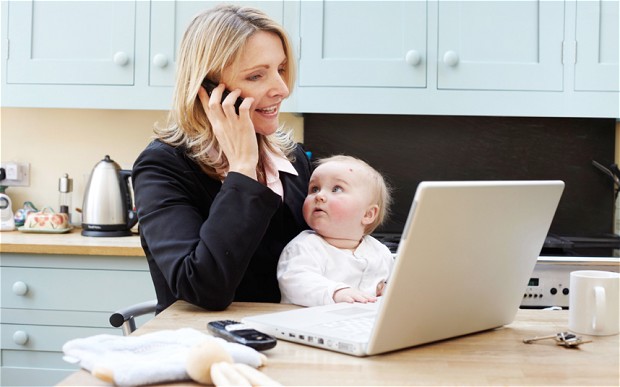 "When you have a child, a husband, a dog and work, it's like you could almost write a movie about your crazy life!I send my child to a day-care center, as a working couple, we get no time for conversation, we don't always eat dinner together at the table, I often forget to check my child's school diary, i feed my child packaged food. But I'm okay with that! By striving for perfection, I set the bar impossibly high and stop having fun. Instead, I'd rather enjoy a happy and balanced life" says Radhika Verma, a friend & a working mother.
Also Read: 5 things that every mother feels but never admits it!
Every woman I've talked to who has come back to work from maternity leave thinks they aren't doing enough and that 24 hours in a day are insufficient as they are even unable to carve out time for themselves. Being a full-time working mother can lead to feelings of guilt and stress because of divided attention between work and family&we go through a whole gamut of emotions—At one point you might find yourself crying at desk because you think baby loves the caretaker more or that you have dropped off a screaming toddler at the day care center but at the same time work would feel more like a vacation from the dredges of motherhood. We are super moms, as we continue to work full time even as we do manage to deal with these challenges. 
The other day I forgot to pack school lunch for my son which I wouldn't't have forgotten, except I took an urgent call from work while I was saying good-bye to by son who was leaving for his school. When I realized my mistake, I did what many a parent would do … I panicked. What kind of mom forgets to pack tiffin for her child? I asked myself. Thank goodness, another child offered to share his food with him until I got him a sandwich that too during the pick-up time at noon. But still, I felt terrible, my working-mom guilt took over as my driver tried to navigate the city traffic at the last minute. My son survived but my guilt has lingered.
Also Read: Mother's Day: Virat Kohli shares an adorable message for all mothers out there!
As a working mother, we learn to manage to juggle multiple responsibilities and coordinate all the aspects that affect our family's life on a day-to-day basis in which you are pulled in so many different directions that it's impossible to feel you have it all together. There are moments when your energy level reaches new lows and your memory seems non-existent. Significant social and personal adjustments are necessary to cope with such a situation.The key is to focus on a plan, get organized, and find the right balance between profession and parenthood.Even though you may be willing to respond to an email or take a call on the weekend, while playing in a park with your child or watching movie with family, you should be focused on that. That's not always easy with a demanding job or business, but it's essential to get the most out of every moment with the family.