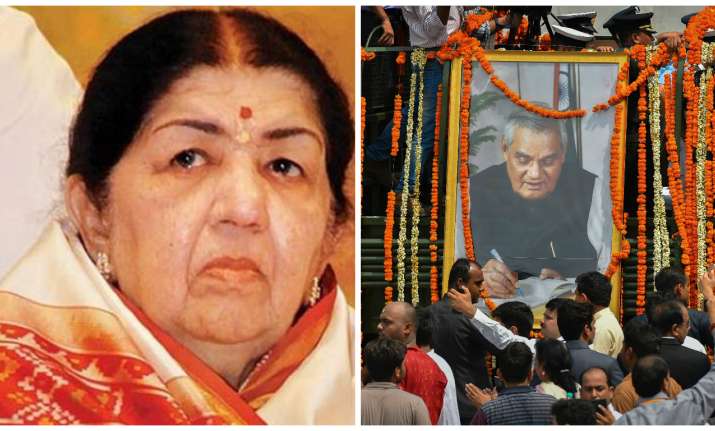 Former Prime Minister, prolific orator, remarkable poet and statesman, Atal Bihari Vajpayee breathed his last on August 16 at 5:05 PM at AIIMS Delhi. The news of his demise shattered the entire nation. From commoners to politicians and Bollywood celebrities, everyone paid their tribute to one of the tallest and humblest figures of Indian politics. Nightingale of India, Lata Mangeshkar also took to Twitter to pen a long heartfelt note.
In an interview with IANS, the singer remembered his dada. She said, ''He was like my father. He called me beti. I called him dada. I feel I've lost my father all over again. When I saw the glow on his face, his persuasive oratorical powers and his love for the arts, I was always reminded of my father (the legendary musician-stage actor Pandit Dinanath Mangeshkar). He was a noble soul. No words of praise can do justice to him. Atalji was never short of words. But I am''.
Now, Lata Mangeshkar has dedicated an unreleased song to the great leader. She took to Twitter to share the link of a poem penned by Vajpayee, which was later composed into a song. Thann Gayi Maut Se Thann Gayi was dropped from the 2014 album, which was dedicated to his poems. The composer of the album titled Antarnaad was Mayuresh Rai.
मेरे दद्दा अटलजी एक साधुपुरुष थे.हिमालय जैसे ऊँचे थे और गंगा जैसे पवित्र थे। मैंने उनकी कुछ कविताएँ जब रेकॉर्ड की थी तब ये एक कविता अल्बम में नहीं थी। वो कविता मैं आज उनकी याद को अर्पण करती हूँ.https://t.co/aAeWakqsX7

— Lata Mangeshkar (@mangeshkarlata) August 17, 2018
Recalling the incident, Mangeshkar said that the album was officially released at Vajpayee's Delhi residence and he was very happy with the selection of poems, especially with Geet naya gata hoon. However, at that time, his adopted daughter felt that it is not right to challenge death through Thann Gayi Maut Se Thann Gayi, hence it was dropped from the album. ''When we told Atalji of our decision he was very quiet then he said, if that''s what everyone wants, then so be it,'' said Vajpayee.
Atal Bihari Vajpayee used to call Hindustani classical vocalist Pandit Jasraj as Rasraj (King of Rasas). The vocalist disclosed this during the launch of his authorised biography, Rasraj: Pandit Jasraj in the US recently.
Popularly known as the showman of Bollywood, filmmaker Subhash Ghai also recalled his fond memories of Atal ji. He said, ''Music launch of my film Pardes was done by Atal ji. He watched most of my films including Taal. The film industry will always remain indebted to him as he was the one who gave Bollywood the status of 'industry'. This helped filmmakers in getting loans and insurance. Being a poet, he understood the pain of artistes in a better way''.
We sincerely are indebted n pay our tribute to finest leader n thinker who eventually gave out film industry a status of industry so we can join the mainstream of corporatisation. 1st to join was @MuktaArtsLtd n set up @whistligwoods 👍👍👍a man of real Vision for india tomorrow pic.twitter.com/wLvzqMNc4L

— Subhash Ghai (@SubhashGhai1) August 17, 2018
Last rites of Atal Bihari Vajpayee was held in Smriti Sthal, Delhi. His final journey was attended by several national dignitaries. Leaders of SAARC nations also paid their last respect.
For all latest news and updates, stay tuned to our Facebook page