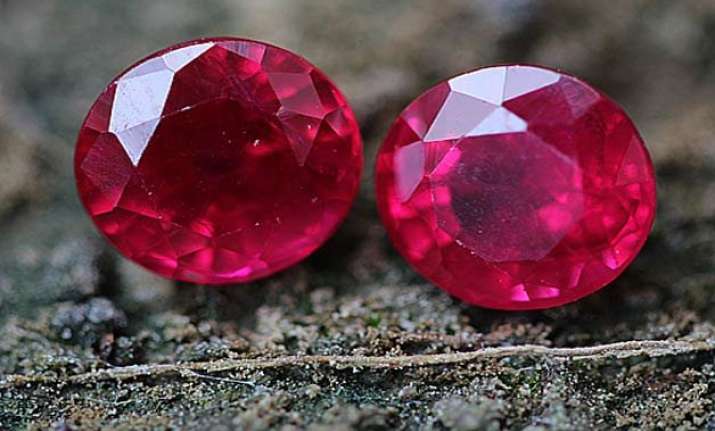 Ruby is the gemstone of Lord Sun. It represents father, authority, dignity, boldness, commanding power, ambition, courage and kind heartedness. A person whose Sun is not good in horoscope or is affected by maleficent planets is recommended to wear Ruby gemstone.
Such a person is usually found having unstable professional life and lacking a good decision-making skill. He is usually not recognized well by others. He does not have a good social standing and is not able to succeed even after making many efforts. For such a person, his weak Sun causes problems like blood pressure, irregular heart beat, bilious nature, haemorrhage and cardiac problems etc.
Such people, on consultation with an astrologer, are recommended to wear gemstone Ruby.
ALSO CHECK: Your today's horoscope on Astrology IndiaTV
Hindi name of Ruby is 'Manik' or 'Manak'. It is a red colour stone and the planet associated with Ruby is Leo. Generally, gemstone-quality corundum in all shades of red, including pink are called rubies.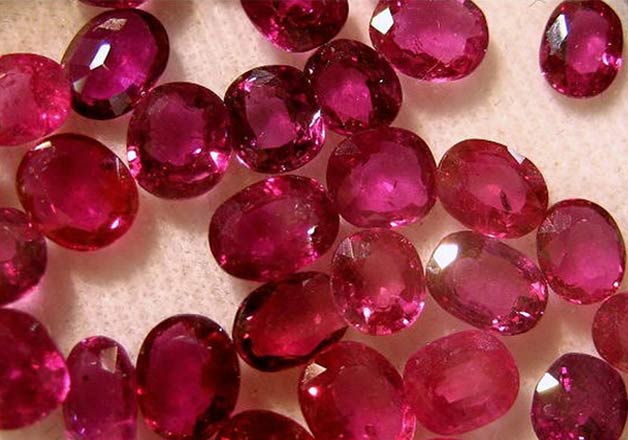 Benefits of Ruby Gemstone
It is said that wearing Ruby brings authority and dignity, in other words, a good decision-making power. It helps the wearer get support from state, authority or administration. Those finding difficulty in making themselves heard are recommended to wear Ruby.
One of the notable Ruby gemstone effects is that it clears the mind, makes it sharp and dissolves any type of confusion.
Another well-known Ruby gemstone benefit is that it helps the wearer progress in self-awareness and helps him or her realize truth.
Who should wear Ruby Gemstone?
Those who aspire to become famous, are in a government job and aspiring to progress should wear a Ruby though not without consulting an astrologer. Apart from them engineers, actors, merchants, diplomats, politicians, stock exchangers and all those who aspire to progress in their career or are not able to progress even after making consistent efforts are recommended to wear Ruby.
How to wear Ruby gemstone?
Ruby should be worn in the ring finger of right hand on a Sunday. Those who are left-handed can wear it in the left hand too! One should not wear a Ruby of less than 3 'ratti'. It can be worn in copper though some astrologers recommend it to be worn in gold.
Read other things to consider before wearing Ruby here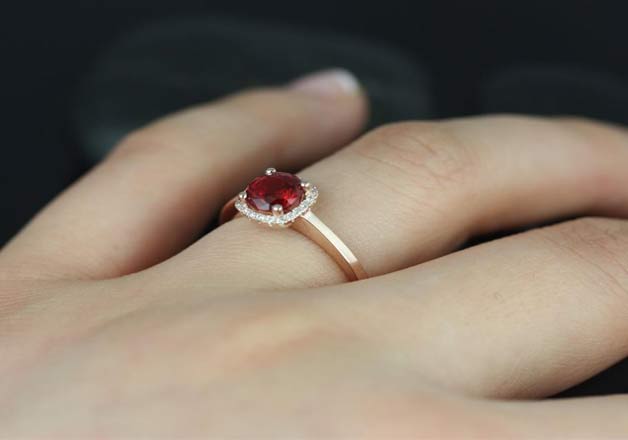 It should be worn on Sunday. One should try to wear red colour dress while wearing it as red is the colour of Sun. One should get it embedded in the ring in such a manner that the gem may touch the finger always. It should be worn in the early two hours after the Sun rise and one should face the Sun while wearing it.
Mantra while wearing Ruby
Though any mantra which reveres Lord Sun can be said before wearing Ruby, however; Aditya Hridaya Strotam or Gayatri Mantra are said to be the best.
One can also recite –
'Aum Hring Hamsah Suryaye Namah Aum' 108 times.
Procedure for wearing Ruby
One should wear Ruby only on Sunday at sunrise and facing the Sun. The best time is morning 6 to 8.
For wearing the gem, take bath in the morning. Wear a red colour dress. If not possible choose to sit on a red colour 'asana' while praying. Soak the Ruby ring in raw cow's milk ('kacha doodh') overnight. On Sunday morning, dip it in Ganga water ('Gangajal').
On a fresh, red cloth draw the numeric 'Surya Mantra' as given here –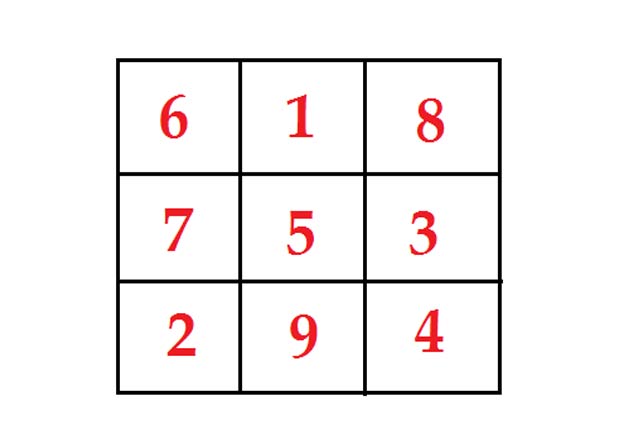 Keep the bowl having ring on the cloth. Now lighten a 'deep' and burn the incense stick or 'dhoopbatti'. Keep mind clear of thoughts while offering prayers.
With concentration, recite any of the above given mantra 108 times. Intent for your wish. Now wear the ring in the ring finger of your right hand. As told earlier, if you are a left-handed person, you can wear the Ruby ring in the left hand also.
It is said that Ruby affects a person till four years.
Ruby Jewelry | Ruby Rings | Ruby Engagement Rings | Ruby Earrings
One can wear a Ruby as Jewelry item also. Ruby Jewelry is easily available in market. One can order Ruby Jewelry online as well, though it is advised to buy it from an authentic source only. Ring is the most common and convenient way of adorning the gem. Ruby rings are available at Jewelers shop. Some people prefer to wear Ruby as pendants also. It also leaves the same effect though it is recommended to consult an astrologer before making a choice. Nowadays, even Ruby engagement rings are also available.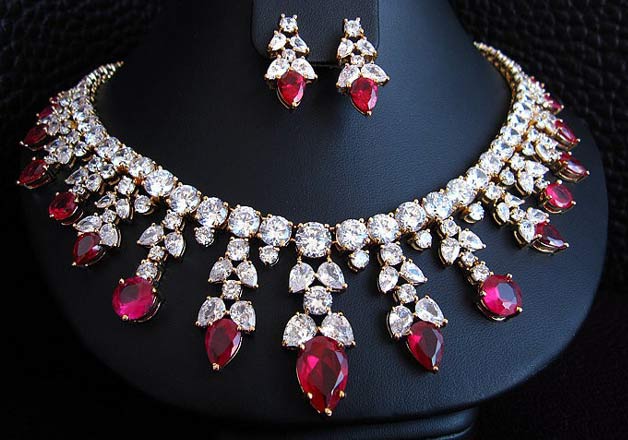 Garnet, Star Ruby, Red Spinal, Red Zircon, Red Tourmaline are all substitutes of Ruby. Burmese Ruby or Ruby from Burma is said to be the best quality.
Ruby Gemstone Price in India
The price of a Ruby between 3 and 5 'ratti' can range anywhere between 3000 and 30,000. One should approach a credible jeweller to buy Ruby. Though original Rubies are rare to find yet a lesser treated one should be looked for.