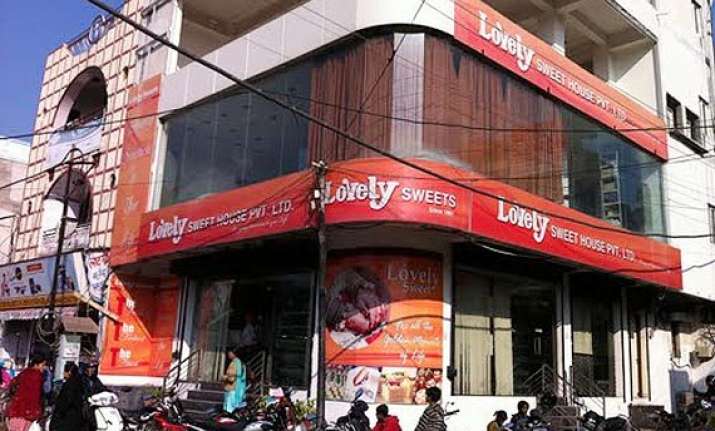 Jalandhar: If there is a brand name that links directly to Punjab's sweet tooth, it is Lovely.
The Jalandhar-based Lovely Sweets Mall has over the last five decades mastered the art of tickling the taste buds of people across northern India, particularly in Punjab.
Famous for its 'moti-chur' ladoos over the years, Lovely Sweets is no longer confined to one popular item alone. It now offers over 250 varieties of sweets, besides other snacks and salted eatables.
It offers over 25 types of ladoos, including 10 varieties made in rich desi ghee.
"When my father, Baldev Raj, started our first shop in 1961 in Jalandhar Cantt, there were only four items available and the ladoos and barfi were the most popular. The second generation of our family initially added 20-odd items. More varieties of sweets were added later. Our third generation has introduced modern sweets which are liked by people," Lovely Sweets Mall owner Naresh Mittal told IANS here.
"He (Baldev Raj) was a 'chai-pani' contractor for the army and an army officer used to request him to bring sweets from a particular popular shop in Lahore in those days (before independence). That is perhaps where the foundation of our sweets business started," Mittal said.
The sweets mall, a unique six-floor building on Jalandhar's ever-busy Nakodar Road, is a full-fledged complex which offers sweets, snacks, other eatables, hundreds of types of packings, theme-based planning and packaging for special occasions like weddings, ring ceremonies, festivals and even baby-showers - all under one roof.
While the traditional sweets continue to attract hundreds of the sweets mall each day, the place offers chocolates, modern dry fruits and platters for weddings and other occasions.
"The highest selling items remain the moti-chur ladoos, desi ghee ladoos, pinni and barfi variants. We even have a 'Ramdev barfi' (named after famous Yoga guru Ramdev) for health and yoga enthusiasts. It is made from ghiya (gourd)," Mittal said.
From budget packs of sweets which start from just Rs.20 to sweets boxes that cost over Rs.3,000 each, Lovely Sweets caters to all sections, pockets and tastes.
Keeping in tune with changing tastes, particularly of the younger generation, the Lovely brand has even ventured into bakery products with its Lovely Bake Studio.
"We have introduced a lot of new things to keep pace with tastes and times. We brought in the sweets mall concept, have opened a 24-hour sweets shop and introduced a new brand - Lovely Imagination - for planning theme-based events. We have also ventured into bakery items," Naresh Mittal's son Shaishav Mittal, 32, who has done his MBA from the United States and has joined the family's traditional business, told IANS.
"We are bringing in the changes and introducing new concepts to cater to needs of the present generation. There is a slight decline in the consumption of sweets as people are becoming more health conscious," Shaishav, a third generation entrepreneur in the Lovely family, added.
The Lovely Group is now not only known for sweets. The Lovely Professional University (LPU), located near Phagwara town, is one of the biggest leading private universities in the country with over 30,000 students, including many from abroad. The Lovely group, which had ventured into automobile business (two-wheelers and cars) in the 1990s, opened its first retail store here last week.