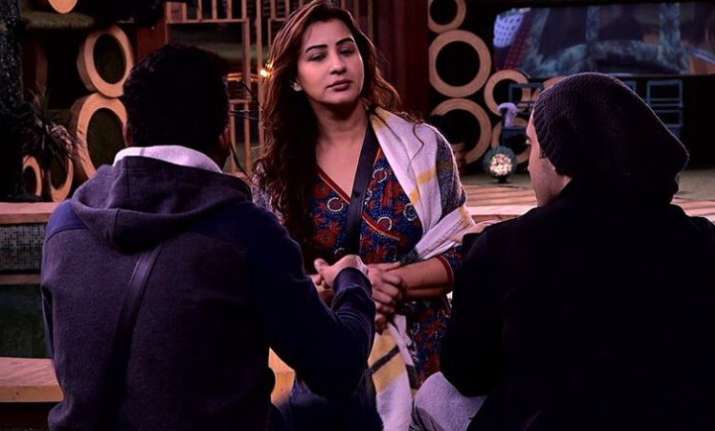 In a shocking Weekend Ka Vaar, Kutumb fame actor Hiten Tejwani was voted out of Bigg Boss 11. When host Salman Khan asked the contestants to choose between Hiten and Priyank Sharma, the majority including Shilpa Shinde voted for Priyank over Hiten. After the unexpected eviction, the friendships inside the house stand exposed.
11:25 PM: Akash asks Arshi not to talk to him and then raps slamming her. On the other hand, Shilpa and Puneesh make fun of Akash's trousers. In the next episode, watch contestants battling for captaincy. 
11:05 PM: Hina and Priyank talk about Luv and his changed behaviour. Bigg Boss takes a sly dig at contestants for using code words for nominations. Bigg Boss nominates everyone except Hina Khan as a punishment. Hina is overwhelmed and expresses her happiness. Arshi asks Puneesh and others to separate themselves from Akash as he now knows their planning.
10: 43 PM: Shilpa Shinde bitches about Priyank, says she did the right thing by evicting Hiten Tejwani. Priyank tells Hina Khan that he is disappointed with Luv Tyagi. Contestants are conversing in code words likes muscles, crab, Hong Kong, snake, bheja fry etc. Muscles means Priyank, bheja fry means Vikas Gupta, crab means Akash Dadlani, snake means Arshi and Hong Kong refers to Hina Khan. Shilpa and Puneesh are discussing about revived friendship between Priyank and Vikas. On the other hands, Arshi gets kiss from both Priyank and Vikas.
10:30 PM: Vikas talks about Shilpa with Priyank and tells him that he was mistaken in recognising her. She is not mad but a clever and cunning woman. Shilpa opens up about nominating Hiten to Puneesh and says that she chose him because he was strong. She too is playing a game, tells Shilpa. On the other hand, Vikas asks Puneesh to take Arshi into confidence. Puneesh goes and tells Shilpa that others are thinking to nominate her as well. Despite being punished, Akash starts eating food.