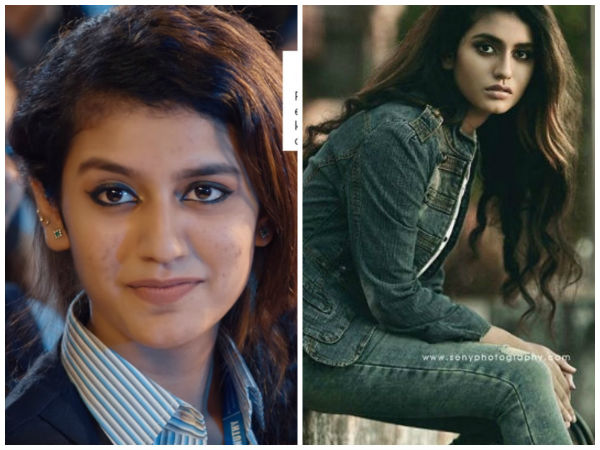 Everybody wants to know about Priya Prakash Varrier, the girl who has taken the internet by storm just ahead of Valentine's Day. The internet sensation Priya is all set to make her debut into South film industry with the Malayalam movie Oru Adaar Love. Ove the past few days, the actress has been breaking the internet. Her flirty moves in the song titled Manikya Malaraya Poovi, composed by Shaan Rahman and sung by Vineeth Sreenivasan, have got everyone talking. Now, the 18-year-old Malayalam sensation has come to the forefront to express her happiness. 
#PriyaPrakashVarrier has been trending on Twitter, acknowledged by the subject of the trend in a tweet from her as-yet unverified account (she appears to have only joined Twitter over the weekend). "Can't believe this," tweeted Priya Prakash Varrier.
In another post, the actress wrote, "Thanks for Oru Adaar Love, I am stunned by the Over whelming Support across Social Media. Never knew my debut could be a National Trend #PriyaPrakashVarrier. Grateful to Omar Lulu Sir. Realized already so many twitter accounts of mine doing rounds".
Sharing the Manikya Malaraya Poovi from her debut film Oru Adaar Love, Priya said, "Here is for all fans in Twitter "Manikya Malaraya Poovi" #OruAdaarLove. Directed by Omar Lulu, Music by Shaan Rahman, Produced by Ousepachan Vaalakuzhy under banner of Ousepachan Movie House via Muzik247, official music partner. #PriyaPrakashVarrier".
The song, Manikya Malaraya Poovi, that made Pirya famous, is from an upcoming Malayalam movie Oru Adaar Love and the song released on YouTube on February 9. In case you missed it, you can watch it right here
In a matter of four days, a short clip from the song, the part where Priya smiles and winks at her high-school crush, went viral and Priya took the internet by storm.
Also Read: Malayalam actress Priya Prakash Varrier sings Channa Mereya and, breaks the internet yet again, watch video
Also Read: Unseen Instagram pictures of India's new crush and internet sensation, Priya Prakash Varrier