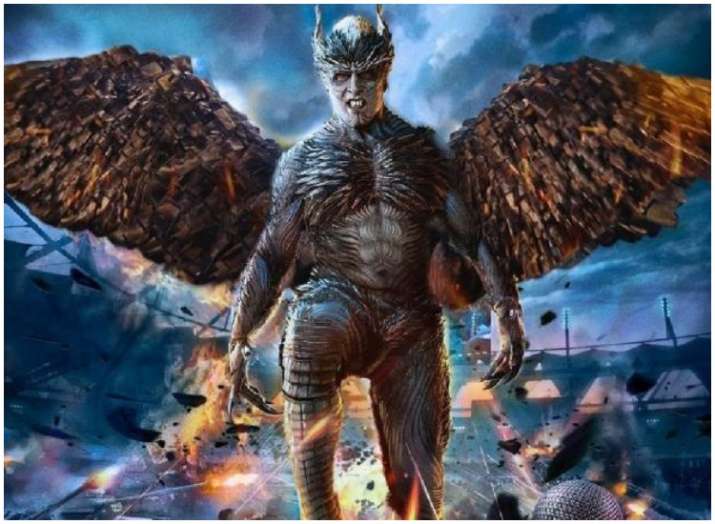 No doubt, Akshay Kumar looks deadly as a villain opposite Rajinikanth in 2.0. . His look is something that we have never seen in the history of Indian cinema. And of course, that's a result of some hardcore make-up and dedication. AK had even mentioned about the whole process saying how he would take about 3 and a half hours to get ready before every shot. 
While we get to see a wrathful side of AK in the trailer and every next poster that's hitting the web, the man himslef shared new poster from the film, which is all set to hit the cinemas tomorrow.
Taking to his Instagram account,  Akshay Kumar shared a full-length poster of the crow man on social media. In the poster, we can see the crow man spreading his wings and crushing the earthlings under his big feet. Akshay captioned this poster, "Tomorrow.... the world will change! Tomorrow...our world will change Tomorrow.... will be the new beginning, , the 3D wonder arrives tomorrow... ...OUR destiny will change forever... TOMORROW #2Point0."
Recently, Akshay Kumar also shared how he transformed himself as Dr Richard. The actor share the behind the scenes video of him getting ready for his role. He wrote, "My look in #2Point0 is nothing short of a technological wonder! Watch to know how it was brought to life."
My look in #2Point0 is nothing short of a technological wonder! Watch to know how it was brought to life.@2Point0Movie @shankarshanmugh @DharmaMovies @LycaProductions #2Point0FromNov29 pic.twitter.com/NfUfUPb2L1

— Akshay Kumar (@akshaykumar) November 16, 2018
The Sci-Fi film is the successor to the Robot / Enthiran film that released in 2010. The film starred former Miss World and internationally acclaimed actress Aishwarya Rai Bachchan opposite Rajinikanth.
The teaser and trailer of the film have garnered massive responses and it will be interesting to see if Rajini and Akki succeed in attracting moviegoers in large numbers to the theatres.
The makers of the 3D film have reportedly spent a whopping 75 million dollars on the VFX which amounts to Rs 543 crores approximately.
2.0 bankrolled by Lyca Productions also stars Adil Hussain and Sudhanshu Pandey in supporting roles.
The music for the film which was launched at a gala event in Dubai last year has been composed by Oscar Award-winning composer A R Rahman. 
The makers of the film have left no stone unturned to promote the film which promises to showcase world-class VFX a la Hollywood style. The film is slated to release on November 29.