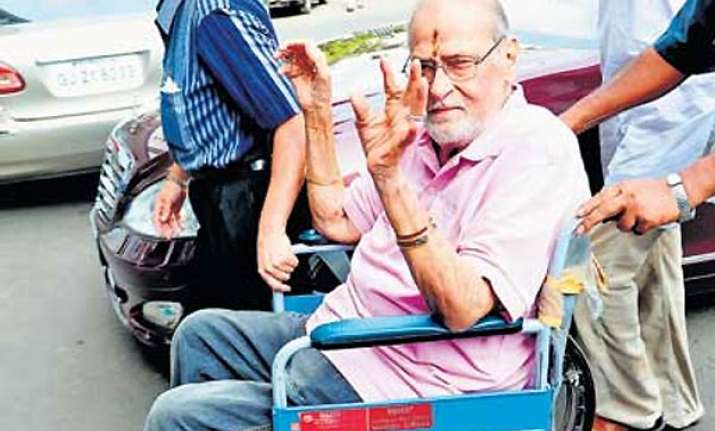 Mumbai, Aug 14: Bollywood's legendary  actor Shammi Kapoor passed away this morning at Mumbai's Breach Candy Hospital, Amitabh Bachchan said on Twitter.

The 79-year-old actor, suffering from chronic renal failure, breathed his last at 5:15 am, Big B tweeted.
Shammi Kapoor was admitted to Breach Candy Hospital last Sunday,  and was on ventilator since then.
According Dr Bhupendra Gandhi, who was treating the actor, Kapoor had been on dialysis for the past few years.
Kapoor was undergoing  dialysis at least thrice a week. The veteran actor's condition was complicated by low blood pressure and an infection, and was being monitored closely by a team of specialists at the hospital's intensive care unit (ICU).
Born October 21, 1931 in a Punjabi Khatri family, Shammi Kapoor dominated the Bollywood industry like a colossus  during the late 1950s and 1960s. An entire generation of Indians was transfixed to Shammi's acting on celluloid.

Born Shamsher Raj Kapoor  in Mumbai to legendary actor Prithviraj Kapoor,  Shammi was the second of the three sons (the  other two being  raj Kapoor and shashi Kapoor) , both of whom were, like their father, successful Bollywood actors.


Though born in Mumbai, he spent a major portion of his childhood in Kolkata, where his father was involved with New Theatres Studios, acting in films. It was in Kolkata that he did his Montessory and Kindergarten. After coming back to Mumbai, he first went to St. Joseph's Convent, Wadala, and then to Don Bosco School.

Shammi Kapoor finished his schooling from New Era School, on Hughes Road.

An extremely versatile actor, Shammi Kapoor debuted in Bollywood in 1953 with the film Jeevan Jyoti, and went on to deliver hits like Tumsa Nahin Dekha, Dil deke Dekho, Junglee, Dil Tera Diwana, Professor, China Town, Rajkumar, Kashmir Ki Kali, Janwar, Teesri Manzil, An Evening in Paris, Brahmachari, Andaz and Vidhaata.
He got the Filmfare Best Actor award in 1968 for his performance in Brahmachari and Filmfare Award Best Supporting Actor  for Vidhaata in 1982.

Shammi Kapoor had a short stint at Ruia College, in Matunga, Mumbai, after which he joined his father's theatrical company "Prithvi Theatres". He entered the cinema world in 1948, as a junior artiste, at a salary of Rs. 150 per month, stayed with Prithvi Theatres for the next four years and collected his last paycheck, Rs. 300, in 1952. He made his debut in Bollywood in the year 1953, when the film Jeevan Jyoti was released. It was directed by Mr. Mahesh Kaul and Chand Usmani was Kapoor's first heroine.

Kapoor started out with serious roles but with Filmistan's  Nasir Husain directed Tumsa Nahin Dekha (1957) and Dil Deke Dekho  (1959).
Shammi attained the image of a light-hearted, stylish playboy. Tall, athletic, lively, fair complexioned, green-eyed and with handsome features- Shammi was a heartthrob, and his good looks and physique complemented his image.

With Junglee (1961) his new image was cemented and his subsequent films were all in this genre. He particularly chose Mohammed Rafi as his playback voice.

Mohammed Rafi once said that had Shammi been born as a leaf, he would have fallen off the tree dancing.

 Though in his early career he had often played second fiddle to established heroines like Madhubala in films like Rail Ka Dibba (1953), producers now loved pairing Shammi with new heroines, and three of them became huge stars in their own right: Asha Pareskh, Saira Bano and Sharmila Tagore.


Of all his heroines, he said that Sharmila, rajshree and Asha Parekh  were easy to work with.  He and Asha Parekh were paired together in four films, the most successful being the murder mystery Teesri Manzil (1966).

In the first half of the 1960s, Kapoor was seen in successful films like Professor, Char Dil Char Rahen, Raat ke Raahi, Dil Tera Diwana 'Pyar Kiya To Darna Kya', China Town, Kashmir Ki Kali, Bluff Master and Rajkumar.

It was to Shammi's credit that he was Bollywood's first dancing hero. Aamir Khan used to say that Elvis Presley was Hollywood's answer to Shammi Kapoor.

In the 1970s, Kapoor's weight problem proved an obstacle in his path of success and ended his career as a romantic hero.

One of his last hits, in which he played the lead role, was Andaz (1971). With time, he moved to character  roles and acted in films like Zameer, Hero and Vidhaata.


In 1974, he donned the hat of a director and made Manoranjan, a film based on Irma La Douce. Two years later, he made Bandalbaaz (1976).

However, both the films failed to create magic at the box office. His last appearance, as a character actor, was in the delayed 2006 film, Sandwich .Recently he had decided to act with Ranbir Kapoor, the great-nephew of his brother Raj Kapoor, in Imitiaz Ali's next movie.

Shammi Kapoor met Geeta Bali  in the year 1955, during the shooting of the film 'Rangeen Raaten'. He was the leading actor and she played a cameo. They fell in love, but since she was a year older to him and had acted with his elder brother and father, they were skeptical.

Four months after they first met, they married at Banganga Temples, near Napean Sea Road of Mumbai. Hari Walia as the sole witness. They informed their parents only after their marriage.


Shammi and Geeta lived a life of bliss in the coming years. They had a son, Aditya Raj Kapoor, on 1 July 1956, at Shirodkar's Hospital, Mumbai, a year after they were married. Five years later, in 1961, they had a daughter, Kanchan.

Tragedy struck in 1965, during the filming of Teesri Manzil. Geeta died of small pox, leaving Shammi with two small children.

It led to a failed romance with  Mumtaz, his co-star from Brahmachari. In 1969, he married his second wife Neela Devi Gohil from the Royal Family of Bhavnagar in Gujarat.

He was gaining weight rather significantly now and this ended his career as a romantic hero in the early 1970s. Andaz(1971) was one of his last hits.

Shammi Kapoor is the founder and chairman of Internet Users Community of India (IUCI). He has also played a major role in setting up internet organizations like the Ethical Hackers Association. Kapoor also maintains a website dedicated to the 'Kapoor family'.
Condoling the death of veteran actor Shammi Kapoor, Prime Minister Manmohan Singh today said he was an accomplished actor who entertained millions of fans.  "I am sad to learn of Shammi Kapoor's demise. He was an accomplished actor who entertained millions and millions of fans in India and abroad. I share his family's grief," Singh said in a message.