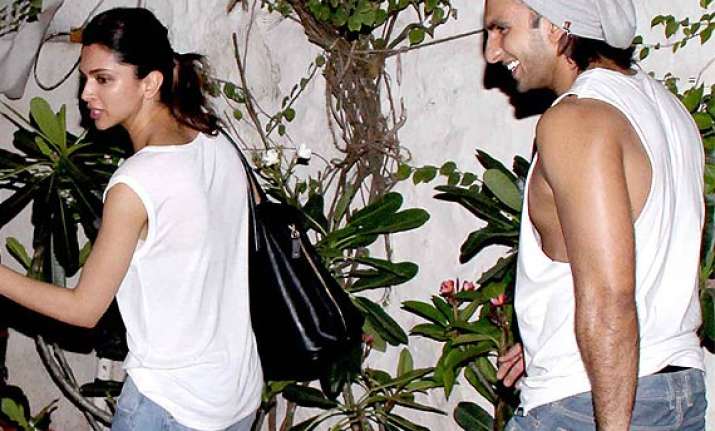 Deepika and Ranveer have appeared together yet again but this time unknowingly that their secret outing would get captured by the shutterbugs like this.
Recently, the duo, which is in an alleged relationship took out time to have some quality moments together and this time they headed to have dinner at the popular  lounge 'Olive' in Mumbai. And while the couple looked in a peppy mood wearing similar clothes, they tried to hide when the cameras approached them.
Deepika, who always seems to be media friendly ran away from the camera and let Ranveer alone handle the situation. Ranveer, who was looking dapper in a cool white tank and rigid pair of jeans came to his usual chirpy mood when he realised that they are being watched out.
Photos: Vinod Singh
Ranveer and Deepika, who became Bollywood's inseparable Ram and Leela after their last year's blockbuster 'Goliyon…Ram Leela,' have been rumoured to be dating each other.
And while the duo never played it on front and made it official, their mannerisms and gestures have always said it all.
Where there is Deepika, you'll definitely find Ranveer around! And why not, the couple even looks stupendous together!
And now if so much of love is around, we ask what's the reason of hiding such a lovely bond? Grow up Ranveer-Deepika!