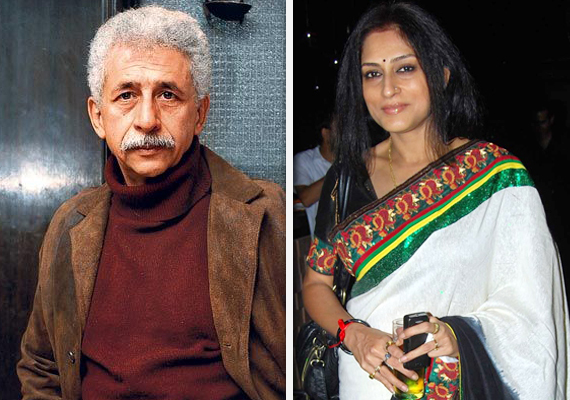 Kolkata, Mar 17: Singer Usha Uthup has roped in Naseeruddin Shah and Rupa Ganguly to emote an entire Tagore song in English for a music video, reports Mumbai Mirror.

Says Rupa Ganguly, "It's a very well-known Rabindra sangeet 'Koto baar bhebechhinu'. It's been translated into English for Usha Didi's song as 'Drink To Only Me.'

"We had a ball shooting it. It was my dream to work with Naseer.

"Somehow, we kept missing working with each other for decades. When I was told Naseer was going to be part of this music video, I just jumped at the opportunity."

Says Ganguly: "There was a complete story in the music video. Naseer plays a photographer and I play the woman he once shot and never forgot."

Says Usha Uthup : "It was an honour working with Naseer. He's a dear friend. He agreed to do the music video in a jiffy.

"Actually, I've done a whole album of Rabindra Sangeet in English. But I could only afford one music video.

"Forty two years ago when I sang my first song on stage, I chose an Irish song. I didn't know it had its roots in a Tagore song.

"When people pointed out the kinship between my Irish song and Rabindra Sangeet, I was hooked. This album is a culmination of that process of globalisation."