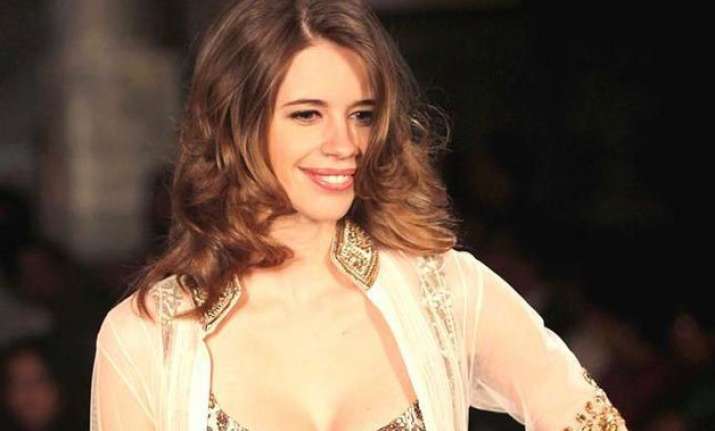 New Delhi: Kalki Koechlin is one of the few actresses in recent years to build her star power while proving her talent in mainstream Indian cinema.
From dancing on peppy numbers in 'Yeh Jawaani Hai Deewani' to playing an intriguing role in 'Shanghai', Kalki has touched all the rays of acting. Koeclin, who was born in India to French parents, was in Delhi to launch iconic Scottish whisky brand Cutty Sark in national capital.
The vivacious and pretty actress turned showstopper for designer Nitin Bal Chauhan for the event. Decked up in a black and white ensemble inspired by ship, the actress looked radiant from tip to toe.
It is quite rare and unusual to see Kalki posing for a fashion magazine or walking the ramp but when the actress does, she grabs the eyeballs for unusual striking appearance.
The French beauty has come a long way since her Bollywood debut in 'Dev D'. Donning makeup, glamorous clothes Kalki went for an audacious look. The actress talked about her upcoming films, fashion and plans on women's day.
Kalki has been nominated for best actress for movie "Margarita, With a Straw" in the 9th edition of the Asian Film Awards. The actress looked all delighted and happy for being nominated.
The film, which won the NETPAC award at the Toronto Film Festival last month, and screened at the London Film Festival, is schedule to release in India on 10th April.
On being asked how she think Indian audience would react to 'Margarita, With a Straw' based on a radical subject, she said that Indian audience is mature enough to accept such cinema. According to the actress, Indian audience has been misjudged on cinema and they are all set to accept such deep and radical subject.
"People have reacted very well on the trailer of 'Margarita, With a Straw' and they are curious about the film which is a good thing. I think we are ready for lots of alternative cinema. Movies like Qissa and Badlapur are some of the example of such cinema based on radical subject. It's high time for us to make such alternative cinema," said the pretty actress
Wearing quirky attire, Kalki mesmerized the crowd as she walked the ramp. The designer Nitin Bal Chauhan's creation looked magnificent on her.
Known for her out-of-the-box sense of fashion, style for Kalki is all about personality. "Fashion for me is basically personality. How to stand out in the crowd, express yourself in and out and be confident of what and who you are", says the Dev D actress.
Revealing her plans on women's day, Kalki said the she will shooting for Soni Razdan's movie 'Love Affair' which is produced by women and directed by a woman. The movie is produced by Pooja Bhatt.
She made her Bollywood debut in Anurag Kashyap's film Dev.D in 2009 for which she got the Filmfare award for Best Supporting Actress. After that she got many subsequent films such as 'Zindagi Na Milegi Dobara' in 2011 and 'Yeh Jawaani Hai Deewani' in 2013.
For both the films, she was nominated for Filmfare Award as Best Supporting Actress. Though, the actress is still among the other fresher actresses, she has worked with many superstars of Bollywood that includes Hrithik Roshan, Ranbir Kapoor and others. She married 'Ugly' director Anurag Kashyap in 2011 but their relationship couldn't work. Within 2 years they parted ways.
From dazzling her versatility on stage and then catapulted into a noticeable entity on screen, Kalki has an impressive career graph and we expect a lot more from her.