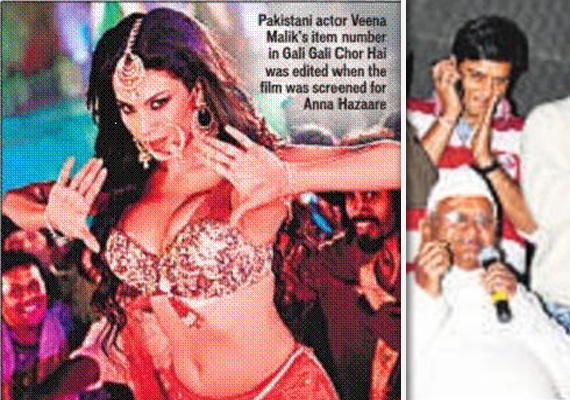 Mumbai, Jan 27: Gandhian Anna Hazare watched the Gali Gali Chor Hai film alongwith 100 other villagers in his native Ralegan Siddhi village, but there was one big item missing from the film.

The item that was missing was a hot number from Pakistani actress Veena Malik doing the Chhanno number, reports HT City.

Lead actor Akshaye Khanna, who attended the open air screening with Shriya Saran and Mugdha Godse, explained 'We wanted to make the film for Anna as crisp as possible. He is not enjoying the best of health."

Filmmaker Rumi Jaffrey wanted Anna Hazare to be the first to view the political satire that releases on February 3 and give his blessings.

Blessings Hazare did give, alongwith the famous quote - "Ek Chamta gaal par padega to dimag thikaane aa jayega. Aur koi rasta bacha nahin hai", raising howls of protest from the Congress leaders.

Akshaye Khanna said, involving Anna in promotions was a cleverly-timed feat. "However honest our cause is, we have to face the brunt that it's a publicity stunt."

The film concludes with a scene where Khanna, who plays a common man pitted against a corrupt system, slaps a police officer and local politician, provoking the Gandhian leader to give his controversial soundbite.