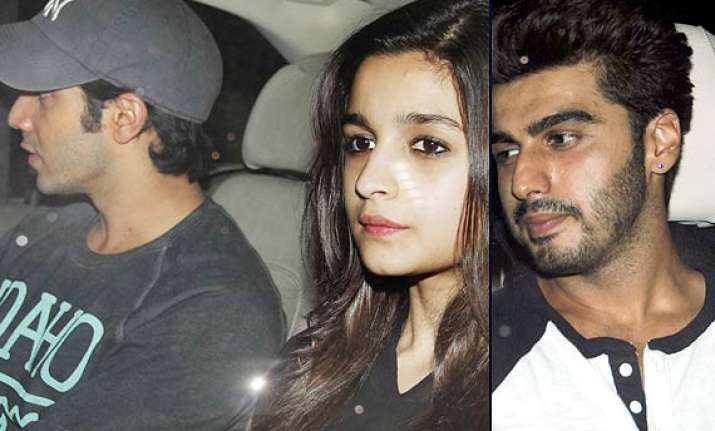 And when the whole world is talking about Alia-Arjun's chemistry in '2 States,' here they are looking paranoid and away from each other.
While we say that the involvement of any third party in the relationship should strictly be undermined, we can see a person entering the lives of these two lovely people in love.
At the recently happened special screening of their film, '2 States,' both Alia and Arjun arrived separately and gave a cold shoulder to each other as they neither posed nor talked to each other at the event.
Rather, what our eyes sensed shockingly was the fact that Alia arrived with her former co-star Varun Dhawan and left with the actor too.
Looking completely obnoxious, Alia appeared a bit away from her usual chirpy-peppy mood and Arjun too seemed not-so-charged up as he generally showcases himself.
The rumours that both Alia and Arjun are dating each other were going the rounds all these days as their cozying up and proximities towards each other were pretty evident in public during the promotions of the film.
Now since the film has hit the screens, we wonder was that all just for the 'show' to push the film to a brighter mark of success or something is actually not "happening" between the two.
Varun Dhawan, who accompanied Alia all the time at the screening, seemed much more refreshed as his film has done quite well.
We wonder is another love triangle, Arjun-Alia-Varun is in making!
Well, whatever it is, we wish audience likes Arjun-Alia on screen and the couple surely get a chance to cheer for their bond once again!