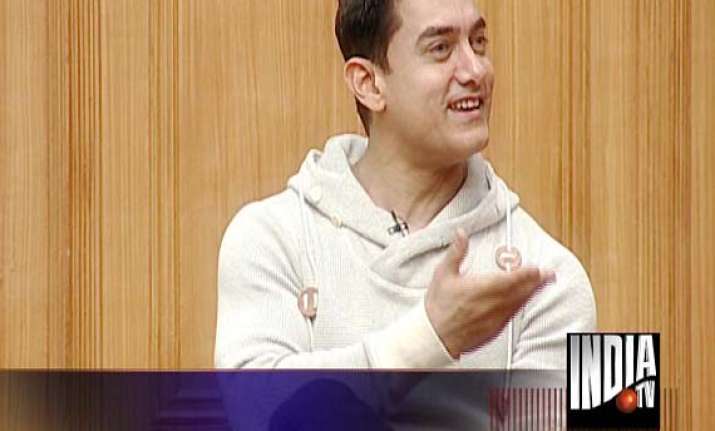 New Delhi, Dec 8: Bollywood star Aamir Khan today promised full protection and treatment for Mahvish, widow of honour killing victim Abdul Hakim, who had appeared in his TV show Satyamev Jayate and was later killed in a village near Bulandshahar.
Replying to queries in
Rajat Sharma
's Aap Ki Adalat, Aamir Khan said all five accused in the killing have been arrested by UP police, and Mahvish is presently getting protection.  
A doctor and a nurse have been assigned to  take care of the pregnant widow, and if required she may be given treatment in a Delhi hospital, he said.  
Abdul Hakim was shot dead by his wife's  family members on November 22 after he had just entered the village along with his wife and their two-year-old daughter.  
Mahvish had eloped with Hakim in October 2010 after which the couple got married and were staying in Delhi following opposition from the former's family.  Hakim had participated in Satyamev Jayate and had spoken against the menace of honour killing. 
Aamir Khan said, "the Satyamev Jayate show has brought me in touch with reality  and taught me so much in the last two years that it  can never be measured in money. "  
"As creative persons we entertain people, but we also feel we have to contribute to our society by bringing about improvement in the social fabric and inculcate better values. 
"Two things are required to change India: one, all of us should change our attitude towards females, and two, we should not be self-centric and think about working in the larger interest." 
The Bollywood actor revealed how he once wrote a letter in his own blood when he was in a relationship with his first wife Reena. "I will appeal to you not to emulate me, as I made a terrible mistake that time." 
He also revealed how he once shaved off his hair at the age of 18, when a girl spurned his advances. "I was to work in Ketan Mehta's Holi and he was surprised to see me with a shaved head. Yet, he gave me the chance." 
He also admitted that being emotional, he often tends to weep. "I wept several times while shooting for Satyamev Jayate and the shooting had to be halted.  It was terrible for me when common people narrated their woes. Even when I go abroad, I feel homesick and start weeping.  
Aamir Khan ruled out joining politics and said: "I am a creative person and I prefer to stay like that. However, politics is not a bad place and we do need good leaders. But I know I won't be happy staying in politics. I think I can be more productive where I am." 
Asked why he went to Jantar Mantar to express solidarity with Anna Hazare, he said, "I still believe India needs a strong law against corruption. I look forward to our politicians  passing such a strong bill in Parliament." 
Aap Ki Adalat with Aamir Khan will be telecast tonight (Saturday Dec 8) at 10 pm and tomorrow (Sunday Dec 9) at 10 am and 10 pm on India TV.