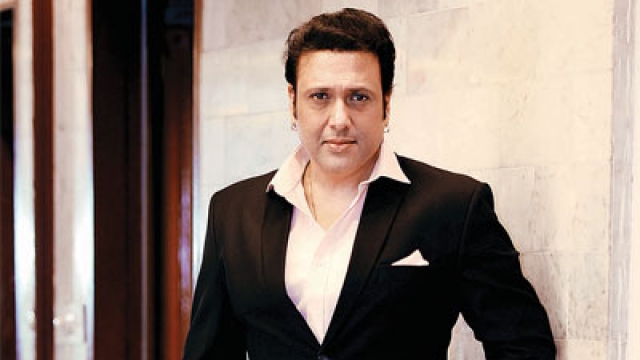 The renowned actor Govinda who is known for his acting and dancing skills has turned writer for his next venture "Aa Gaya Hai Hero". Interestingly, he is also the producer of the film.
On writing the story, Govinda said that due to some unavoidable situations he had to take up writing as well.
Asked about when he discovered his talent as a writer, Govinda told IANS: "Taking up the pen was a situational decision, because I did not like the story that was written by professional writers.
"As a producer, when you invest money on a film, you want the story in a certain way. However, the problem that I faced was series of unnecessary advise, suggestions and answering questions like, 'Why do you want to make the film like this?'."
He added: "I had a bad experience as some professional writers took money to write the film, but later started owning the film... So, I decided to write the story. Of course, it was a time-consuming process."
Starting his career in 1986 with the film "Ilzaam", Govinda carved his niche with his skilled dance, acting and comic timing. Even after gaining popularity with films like "Awaargi", "Shola Aur Shabnam", "Raja Babu", "Coolie No. 1", "Saajan Chale Sasural" and "Bade Miyan Chote Miyan", he had a tough time.
Asking about which phase of struggle was more difficult to deal with, Govinda said: "Coming from a non-film background, I started from zero to become a hero in the Hindi film industry that's so competitive. Then again, I had to struggle to sustain that along with joining politics (he joined the Congress party in 2000, elected to Lok Sabha and continued till 2008 before resigning).
"I think it was a circle and in each phase I learnt something new, saw the real faces in difficult times and who the real friends are. Interestingly, my audience will get to see a glimpse of my journey in my upcoming film, through the character that I am playing in it.
"I playing an actor who is acting as a cop -- how from a common person he becomes the hero for many people. So it is a multi-layered character that I have never done before."
While Govinda still cherisher the memory of working with veteran actor Dilip Kumar in "Izzatdaar" and called him his "best co-star", he never liked his performance in any of his own films that much.
"I don't like watching my performance often, but if you ask me to choose one, I would say 'Hatya'. I liked my performance in that film," said the actor.
The film "Aa Gaya Hero" also features actors like Ashutosh Rana, Richa Sharma, Makarand Deshpande and Chandrachur Singh, will release on March 3.
(With IANS Inputs)