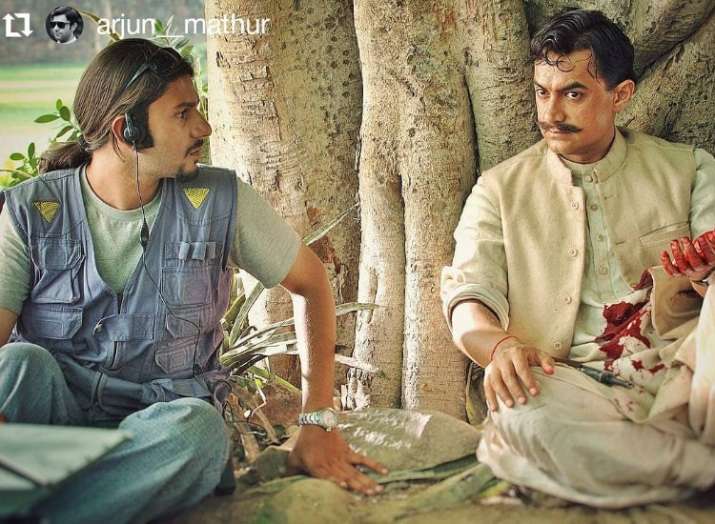 Aamir Khan recently shared a post, appreciating Arjun Mathur, the lead actor of Made In Heaven. Arjun Mathur worked as an assistant director in Rang De! Basanti. Aamir Khan, being the lead of Rang De! Basanti knew Arjun Mathur already before watching Made In Heaven. Arjun Mathur shared a picture from the sets of Rang De! Basanti and appreciated Aamir Khan. 
He captioned his post saying, "Major #throwback - the year 2005.
Standing-in on mark for the 'present day D.J.' next to #ChandrashekharAzad for one of the past/present #VFX transition shots required for the #climax in #RangDeBasanti.
#RDB was my fourth and last film as an #AssistantDirector (and the end of utility jackets for me). What an honour to have been a part of this #rebellion, this #movement. Yes, it was much more than a film.
And what a grand privilege to have gotten to observe the genius and work-ethic of @_aamirkhan on not one, but two entire feature-films, even before I had started acting professionally. There's just so much I've gotten to imbibe from this man.. and in case you can't tell from my longing gaze, I'm forever #grateful for it."
Later, Aamir Khan reposted the same picture, appreciating Arjun Mathur for his role in Made In Heaven. He captioned the post saying, "Hey Arjun, so wonderful to see you doing such great work. I really enjoyed Made in Heaven.
Love, 
a."
Well, this shows the humble and grounded attitude of the great stars like Aamir Khan. Encouraging young and aspiring actors is always great. This boosts their confidence and gives them recognition. 
Arjun Mathur has made various appearances on the screen like in My Name is Khan, Luck By Chance, The Accidental Prime Minister. His recent show Made in Heaven has given a lot of recognition to the actor. 
Aamir Khan who was last seen in Thugs of Hindostan will be next seen in Lal Singh Chaddha.
Watch the trailer of Made In Heaven