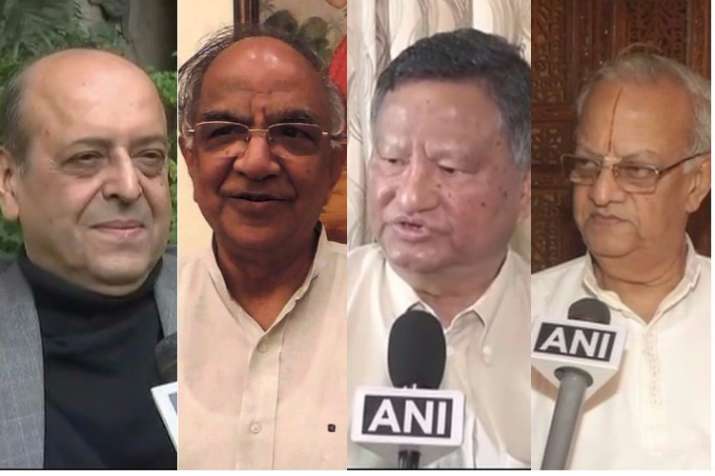 Former chiefs of Election Commission on Monday called to put an end to EVM bashing. Speaking to media individually, the former CECs voiced shared view that the matter of EVM hacking matter should be closed once and for all. 
"I firmly believe that our EVMs, VVPATs cannot be tampered with. This matter should be closed once and for all as it is tried and tested. EVM is a standalone machine, question of hacking doesn't arise," former Chief Election Commissioner of India, HS Brahma said on Monday. 
His senior N Gopalaswami said that EVM acnnot be hacked as it is not connected to a network. "EVMs are stand alone machines, aren't connected to any network, can't be influenced over Bluetooth or wireless message,so to say EVMs have something wrong is absolutely incorrect. It's only a glorified calculator, moment you open it, it goes dead," Gopalaswami said. 
Giving account of neck-to-neck fight between Congress and BJP in Gujarat today, former CEC T.S. Krishnamurthy said on Monday that electronic voting machines (EVMs) are the "real winner" in polls and their "bashing" should stop now.
"They (EVMs) have done their job well. After all, the Congress has increased its position (in Gujarat compared to the last elections). Some leaders of the BJP have been defeated. EVMs have served the purpose", Mr. Krishnamurthy told PTI.
"If they (critics of EVMs) have anything to say, let them go to the court and prove it. There is no point talking about (criticising EVMs) in every election," he said.
Reminding of the time when BJP had levied similar accusations, former CEC Naveen Chawla said that EVMs are safe. "EVMs cannot be tampered with, even in the future. I am very clear about this. During my time, BJP had raised doubts on EVM so we had also held a demonstration like earlier this year for all to come and try rig it," Chawla told ANI. 
Both the Congress and the BJP are "guilty of attacking the EVMs", Krishnamurthy said, pointing to a book written some years ago by BJP national spokesperson G.V.L. Narasimha Rao that was critical of EVMs.
"The national parties...if they want to show their responsibility, they have to go to the courts or go to an independent body of technical experts and prove it," he said.
"Both the parties should realise that there is no point talking about the machine. If you have any genuine concern, prove it to the court (that EVMs can be manipulated), or call IIT Directors and show it to them," Krishnamurthy added.
Amid a raging debate over the trustworthiness of EVMs, he had said earlier this month that they are credible, robust and reliable, and expressed his "unwavering faith" in them and their "infallibility".
Apprehensions about possible EVM tampering through bluetooth technology was raised by the opposition Congress during the assembly elections in Gujarat, which the Election Commission had termed "baseless".
Even after today's poll results, Hardik Patel reiterated his allegations of EVM tampering saying that if ATMs can be hacked that so can be EVMs. "There has been tampering in EVMs in Surat, Rajkot and Ahmedabad, hence the gap is very less wherever tampering happened. EVMs are hackable," Patel said. 
With inputs from agencies