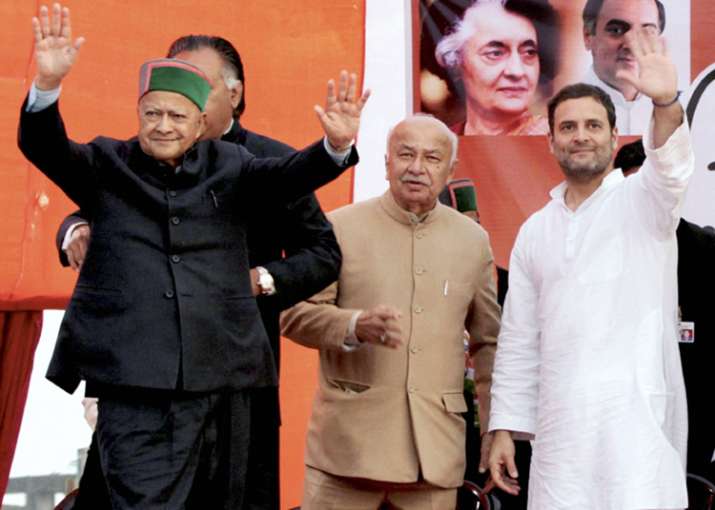 With campaigning for the November 9 Assembly polls in Himachal Pradesh coming to an end today, both the Congress and the BJP are making a last-ditch effort to woo voters in their favour. On Monday, the penultimate day of campaigning, a battery of senior leaders from boththe parties descended on the hill state to address multiple rallies. 
Congress vice president Rahul Gandhi addressed three rallies on Monday and targeted the Narendra Modi government at the Centre over demonetisation and the Goods and Services Tax (GST) implementation. 
The Bharatiya Janata Party dropped its top leaders, including senior ministers and chief ministers to campaign on Monday. 
Home minister Rajnath Singh, Information and Broadcasting minister Smriti Irani, Uttar Pradesh Chief Minister Yogi Aditya Nath and Uttarakhand Chief Minister Trivendra Singh Rawat reached the poll-bound state besides Union ministers J P Nadda and Thawar Chand Gehlot, and Bihar minister Mangal Pandey, who are already camping here. 
Pandey, who is also incharge of party affairs for Himachal took a dig at Rahul Gandhi saying that the spectre of a loss in Gujarat was haunting the Congress vice president. 
All 68 constituencies go to polls on November 9. The counting of votes will take place on December 18.
The Congress is contesting elections under the leadership of Chief Minister Virbhadra Singh while the BJP has declared former chief Minister Prem Kumar Dhumal as CM face.
There are 50,25.941 voters in the state including 25,31,321 men and 24,57,032 women.
The Congress and the BJP have been ruling the state alternately since 1985. The BJP is claiming that it is their turn to stage a comeback.