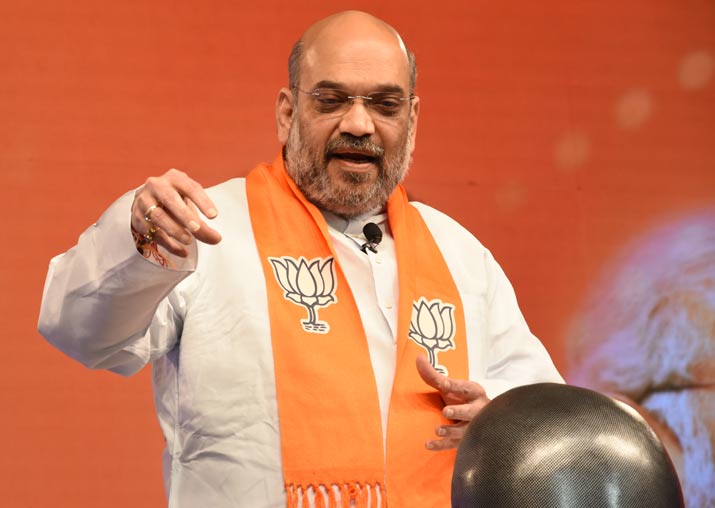 BJP president Amit Shah today hit out at Congress leader Rahul Gandhi for raising questions over the businesses being run by his Jay. Replying to questions from Rajat Sharma at the India TV conclave "Chunav manch" in Ahmedabad, Shah dared the Congress leader file a criminal defamation suit, saying 'the one who is honest, can only file criminal defamation'. 
Shah said that his son Jay has himself invited a probe into the allegations. "They slapped charges on us, and we replied. They should go to the court. Generally, the opposition demands for a probe. But here, Jay has invited an investigation by himself, he has told the court to conduct an enquiry." 
The BJP chief further hit out at Rahul Gandhi, saying he does not know the difference between turnover and profit. 
"Rahul ji had alleged that Jay had made Rs 80 crore profit, whereas, the fact is it was turnover, and his company faced Rs 1.4 crore loss. Moreover, there is difference between Line of Credit and loan. Line of Credit is only a guarantee for importing goods, and it is 100 pc mortgaged. It is not loan". 
"Neither did my son take any land from the government, nor was any contractor involved."
Asked why Railway Minister Piyush Goyal was asked to address press conference to defend his son, Shah said: "Piyush Goyal spoke as BJP leader, and not as a minister to defend. We are in public life. Do we not have the right to defend ourselves in public? Do they (Congress) want that we should have remained silent?"
Amit Shah threw a challenge at Rahul Gandhi. He said: "Several allegations were made against him and his family. Did they file a single criminal defamation suit? Let him file."
The Congress party is continuously raking up the issue of Jay Shah's company's turnover saying his firm grew from Rs 50,000 to Rs 80.5 crore in a 2015-16, within one year, after obtaining an unsecured loan from a non-banking financial institution.