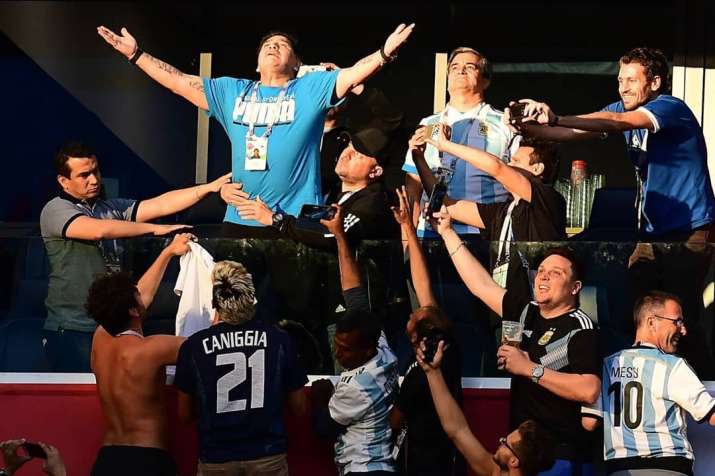 Argentina's epic victory against Nigeria sure was a delight for all fans but Diego Maradona seemed to be having unique reactions to the win. This is when Twiteratti hoped in to generate funny memes out of the incident. And one look at them will make you laugh out loud. Have a look!
Maradona Forever pic.twitter.com/FVbkUCuhgw

— Alfredito Ω (@AlfreditoLCDA) June 27, 2018
MARADONA HIT ANOTHER HIGH LIKE • pic.twitter.com/yBhSPnTlIN

— sushi.b (@justcallmesushi) June 26, 2018
Best #Maradona Meme!#GoT #Messi. pic.twitter.com/KrOYXNjQIB

— Euge Beascochea 💚 (@EugitaBeas) June 27, 2018
Imagine your JOB is to hold Maradona when he's high just in case he decides to jump into the stands 😂😂😂 pic.twitter.com/3cbcDhBtBt

— 27th Feb 🎉🎊🎁 Geiermonsta (@UncleKennyBw) June 26, 2018
Argentina qualified into the Round of 16 in FIFA World Cup 2018 through this epic win against Nigeria with 2-1. Maradona started giving out all his extraordinary expressions of joy with Messi's opening goal. Later when Argentina finally found the winning goal four minutes prior to the end, Diego sure couldn't control his exuberant nature of expressing joy. The winning goal has achieved all thanks to Marcos Rojo.
Maradona Meme 7
🤣🤣🤣🤣🤣 pic.twitter.com/mxbFDXJT7I

— Ptc Recargado Rating (@PtcRecargado) June 26, 2018
Maradona Meme 8
🤣🤣🤣🤣🇦🇷 pic.twitter.com/nnhBrmTO8X

— Ptc Recargado Rating (@PtcRecargado) June 26, 2018
Maradona Meme 9
🤣🤣🤣🤣🤣 pic.twitter.com/3aeAZ6Cl06

— Ptc Recargado Rating (@PtcRecargado) June 26, 2018