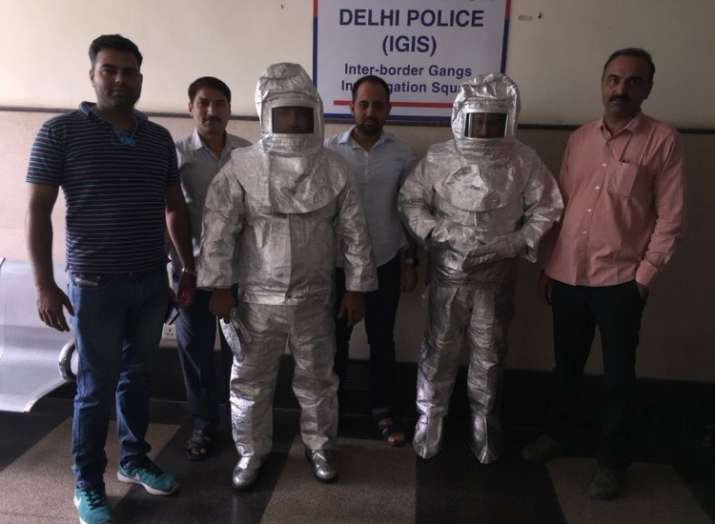 If you are in the capital and you see two men dressed in a space suit escorted by cops, don't be surprised because they are not scientists but conmen who have duped a businessman of Rs. 1.43cr pretending to be NASA scientists.
Identified as Virender Mohan Brar (56) and Nitin Mohan alias Bawa Brar (30), the accused are residents of Paschim Vihar, Delhi and are motor mechanics. Based on a complaint from businessman Narender that the two have cheated him claiming they were dealing Rice Pullers (RP) used by NASA for research, Delhi Police tracked them and arrested them.
According to the police, stuff like plastic space suits, 'RP' copper plate and anti-radiation chemical stickers made by them were seized that they used to lure and convince their victims that they work for NASA.
Bhisham Singh, DCP, Crime Branch, told DNA,  "Virender posed as MD of a company stated that he can arrange the sale of 'RP' to NASA at a price of around Rs 37,500 crore after testing its genuineness, which would be done by scientists of DRDO and some chemicals would be imported for the same as well. Narender was lured and told that if he invested the returns would be great." 
Alleged 'Rice Pullar' copper plate, anti radiation scientist's suits of NASA, anti radiation chemical stickers have been recovered along with laptop, printer, blank letter heads of Rehan Metals/USA, cheque books, fake ID cards of Rehan Metals and one Audi car. @DelhiPolice pic.twitter.com/YZOjFLQXLM

— Bhishma Singh (@bhishamsingh24) May 8, 2018
This is not the first case in India where conmen have used 'rice puller' in the pretext of making huge money. The father-son duo told the Delhi-based businessman that the copper plate will be charged by a thunderbolt. It was only after the man ended up paying Rs 1.43 crore in multiple installments that he realized that he was being duped. So he approached the police upon which the father-son duo was caught