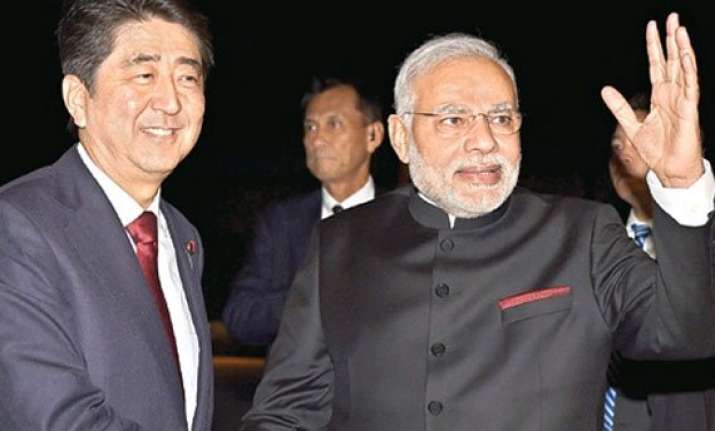 Kyoto:  Prime Minister Narendra Modi today received a presentation from Kyoto Mayor Daisaka Kadokawa on how the ancient tradition of Japan's cultural capital has been preserved while building it into a modern city, a day after India signed a pact to develop Varanasi on the pattern of Kyoto.
During the 40-minute presentation, Mayor Kadokawa explained how Kyoto was cleaned up by its citizens.
 
He told Mr Modi that local students actively participated in cleaning up the city and reducing the garbage to 40 per cent.
 
Posters and billboards were discouraged and today the two remaining posters will be removed in the city, he said, adding that this exercise has been going on for several years.
 
Mr Modi, who represents Varanasi constituency in the Lok Sabha, wants to develop the sacred Indian city into a 'smart city' by using the experience of Kyoto.
 
Mr Modi presented a book to the Mayor in which he wrote,"I represent Benaras. I came to know how the city of Kyoto was developed."
 
He also handed over a digital map of Varanasi to the Mayor, who said, "I would like to dedicate myself for promotion of interaction between India and Japan."
 
Buddhist heritage are inspired by India, the Mayor said.
 
Later PM Modi said, "the reason I came to Kyoto was primarily cultural. Kyoto has maintained its cultural heritage despite lot of troubles. Kyoto has incorporated modern needs with its cultural heritage. This city was built on the foundation of its cultural heritage. In India, we are also trying to create a heritage city."
 
Kyoto, with around 2000 temples and shrines, has been at the crossroads of history since the end of the Nara Period (794 A.D.). It was the capital of Japan for over 1,000 years till the Emperor moved to Tokyo.
A Partner City MoU was signed by Indian Ambassador Deepa Wadhwa and Kyoto Mayor Kadokawa at a ceremony witnessed by Mr Modi and his Japanese counterpart Shinzo Abe on Saturday.
The MoU, which was signed soon after Mr Modi's arrival to Japan on a five-day visit, provides for cooperation in heritage conservation, city modernisation and cooperation in the fields of art, culture and academics.