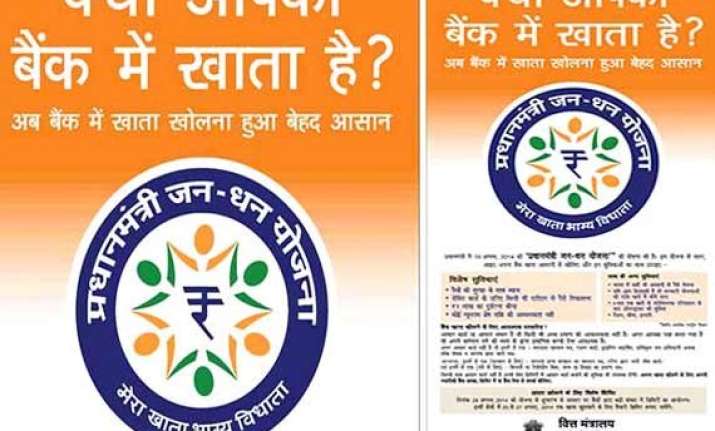 New Delhi: Finance Minister Arun Jaitley on Saturday said banks have opened about 2.14 crore saving accounts since the launch of Jan Dhan Yojana on August 28.
"As of yesterday afternoon 1.84 crore accounts were added. Enrollment have continued...As of today afternoon about 2,14,34,000 accounts have been opened," he said.
The Finance Minister said that the target of opening up of 7.5 crore would be achieved before January 26, 2015.
The beneficiaries, who already have a bank account, are also eligible to take benefits of accident insurance of Rs 1 lakh and life insurance of Rs 30,000 under this scheme by getting a RuPay card issued from their bank branches before January 26, 2015.
Prime Minister Narendra Modi on August 28 launched the Pradhan Mantri Jan Dhan Yojna, a mega financial inclusion scheme, to cover about 7.5 crore unbanked households.
Under the scheme, a person from an unbanked household, opening an account will get a RuPay debit card with a Rs 1 lakh accident insurance cover. An additional Rs 30,000 life insurance cover will also be given if the accounts are opened till January 26, 2015.
Speaking about the scheme, Financial Services Secretary G S Sandhu said Rs 1 lakh accident insurance with the RuPay debit card is free to customer.
However, he said the premium on Rs 30,000 life insurance cover would be part paid by beneficiaries for which department is working out modalities.
The new scheme is an improvement over the UPA's financial inclusion programme.
The earlier scheme had no focus on households and no emphasis was given on urban financial inclusion, some experts said. Besides, they maintained that there was a cumbersome Know Your Customer formality, restricting account opening.
Other deficiencies cited included lack of credit disbursement and 47% of business correspondents being untraceable, resulting in inactive accounts.
The new scheme has tried to address all the possible deficiencies and its monitoring would be done at state and district levels.
The 'mission mode' approach has been envisaged with the Finance Minister as head of the mission.
The mission will have five different levels for overseeing the implementation of the programme—three with the Centre and two with state governments.
The programme assumes importance as 42 per cent of the population is still out of the formal banking system, and has to depend on money lenders for meeting their credit needs.
The present banking network of the country comprises a bank branch network of 1,15,082 and an ATM network of 1,60,055. Of these, 43,962 branches (38.2 per cent) and 23,334 ATMs (14.58 per cent) are in rural areas.