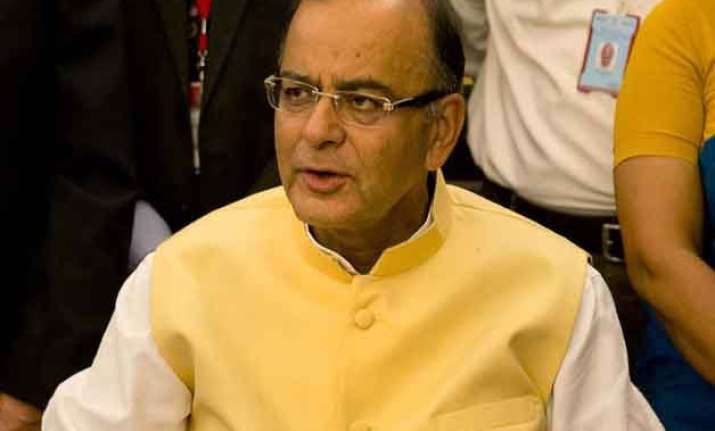 New Delhi: Finance minister Arun Jaitley on Saturday unveiled a budget that aims to push up growth, aided by a slowed pace of fiscal deficit cuts and a raft of tax sops to put private domestic and foreign capital to work.
Here are some of the measures announced by the finance minister to benefit the common man:
Tax Sops
Tax slabs for individuals: no changes
Can invest additional Rs 50,000 in NPS (80CCD) over and above 1.5 lakh limit of 80C
Limit on deduction on account of contribution to a pension fund and the new pension scheme is proposed to be increased from Rs 1 lakh to Rs 1.5 lakh.
Exemption of transport allowance doubled to Rs 1,600 from Rs 800
The limit of reduction of health insurance premium was enhanced from Rs 15,000 to Rs 25,000. For senior citizens this limit has been increased from Rs 20,000 to Rs 30,000.
For senior citizen above the age of 80 years, not eligible to take health insurance, deduction is allowed for Rs 30,000 toward medical expenditure. Deduction limit of Rs 60,000 on expenditure on account of specified diseases is enhanced to Rs 80,000 in the case of senior citizens, the finance minister said.
Universal Social Security System
Finance Minister proposed to work towards creating a universal social security system for all Indians, specially the poor and the under-privileged.
Pradhan Mantri Suraksha Bima Yojana
The Yojana will be launched to cover accidental death risk of Rs 2 lakh for a premium of just Rs 12 per year
Atal Pension Yojana
It will provide a defined pension, depending on the contribution, and its period. To encourage people to join this scheme, the government will contribute 50 per cent of the beneficiaries' premium limited to Rs. 1,000 each year, for five years, in the new accounts opened before 31st December, 2015.
Pradhan Mantri Jeevan Jyoti Bima Yojana
It covers both natural and accidental death risk of Rs 2 lakh. The premium will be Rs 330 per year, or less than one rupee per day, for the age group 18-50.
For employees under EPF
The employee can now opt for EPF or the New Pension Scheme (NPS). Secondly, for employees below a certain threshold of monthly income, contribution to EPF should be optional, without affecting or reducing the employer's contribution.
He said, with respect to ESI, the employee should have the option of choosing either ESI or a Health Insurance product, recognized by the Insurance Regulatory Development Authority ( IRDA).
Monetising gold
The finance minister proposed to introduce Gold Monetisation Scheme, which will replace both the present Gold Deposit and Gold metal Loan Schemes.
The new scheme will allow the depositors of gold to earn interest in their metal accounts and the jewelers to obtain loans in their metal account. Banks/ other dealers would also be able to monetize this gold.
He also announced the development of an alternate financial asset, a Sovereign Gold Bond, as an alternative to purchasing metal gold. The bonds will carry a fixed rate of interest, and also be redeemable in case in terms of the face value of the gold, at the time of redemption by the holder of the bond.
An Indian Gold Coin was announced that would help reduce the demand for coins minted outside Indian and also help to recycle the gold available in the country
Job creation via Make in India
Customs duties on certain inputs like metal parts, insulated wires and cables, refrigerators compressor parts, compounds used in catalytic converters, sulphuric Acid for use in manufacture of fertilizers and compounds of video Cameras have been reduced
SAD is reduced in Metal scrap of iron & steel, copper, brass and aluminum from 4% to 2% to address problem of CENVAT credit accumulation. For inputs for use in the manufacture of LED driver and MCPCB for LED lights, fixture and LED lamps SAD is reduced from 4% to Nil.
Education
To boost employability, the government will launch a National Skills Mission through the Skill Development and Entrepreneurship Ministry.
The Mission will consolidate skill initiatives spread across several Ministries. Jaitley also proposed to set up an IIT in Karnataka, and upgrade Indian School of Mines, Dhanbad into a full fledged IIT. IIMs will be set in J&K and Andhara Pradesh, FM added.
Three new National Institutes of Pharmaceuticals Education and Research are proposed to be set up in Maharashtra, Rajasthan and Chattisgarh along with Institutes of Science and Education Research in Nagaland and Odisha.
For the North Eastern States, a Centre for Film Production, Animation and Gaming will be set up in Arunachal Pradesh while an Apprenticeship Training Institute for Women will be set in Haryana and Uttarakhand during 2015-16.