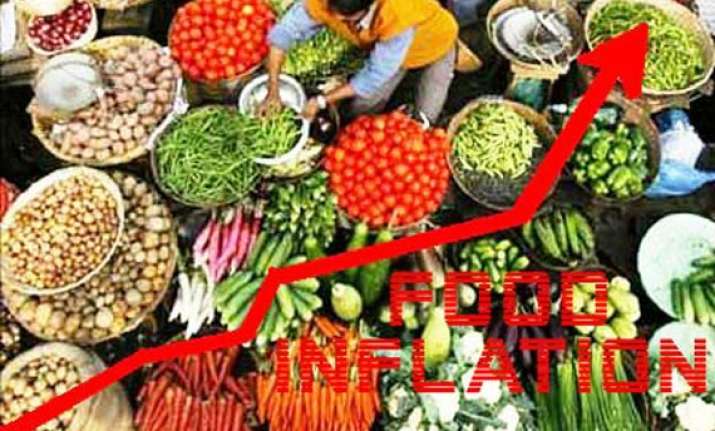 New Delhi, Aug 11 : Food inflation climbed to a four-and-half month high of 9.90 per cent in the last week of July, increasing the burden on households on the back of costlier onions, fruits and protein-based items. 
Experts said food inflation is expected to remain volatile, but added that trend in global commodity prices would determine the overall domestic price situation.  Food inflation, measured by Wholesale Price Index (WPI), went up to 9.90 per cent for the week ended July 30 from 8.04 per cent.

Prices of onions rose by 36.62 per cent year-on-year, fruits (up 16.49 per cent), vegetables (14.61 per cent) and eggs, meat and fish (13.44 per cent).
In addition, cereal prices went up by 6.22 per cent, potatoes by 10.85 per cent and milk by 10.38 per cent on an annual basis.

"Food inflation is likely to continue to display volatility, on account of perishable items, namely fruits and vegetables, and protein items, led by changing nutritional preferences in the face of an inadequate augmentation of supply," ICRA economist Aditi Nayar said. 
This is the highest rate of price rise in food items since the week ended March 12, when food inflation stood at 10.05 per cent. In mid-July, food inflation slipped to a 20-month low of 7.33 per cent.

"While food inflation fluctuates, the real focus would be on headline inflation numbers. The global environment is uncertain and we have seen sharp fall in international commodity prices and if this continues the overall rate of price rise may moderate in the economy," Crisil chief economist D K Joshi said.

Headline inflation stood at 9.44 per cent in June, mainly on account of rise in prices of manufactured items, which have over 65 per cent share in the WPI basket.

Prices of commodities, including crude, have fallen sharply in the international markets during the past week ever since Standard & Poor's downgraded US' sovereign debt ratings, which led to meltdown in markets worldwide. 

As per data released today by the government, primary articles recorded inflation of 12.22 per cent for the week ended July 30, up from 10.99 per cent in the previous week.  However, inflation in non-food articles, which include fibres, oil seeds and minerals, fell to 15.05 per cent from 15.60 per cent in the previous week.

Meanwhile, fuel and power inflation stood at 12.19 per cent, marginally up from 12.12 per cent in the week ended July 23.

"Global factors will influence the domestic price situation to a large extent. If prices of crude continue to fall then both headline and food inflation are likely to moderate in coming months," Deloitte, Haskin & Sells director Anis Chakravarty said.

Crude prices in international markets have fallen sharply this week. New York's main contract, light sweet crude for delivery in September, dipped to USD 82 per barrel in Asian markets today, from above USD 100 a week ago. 

"The weekly inflation numbers reveal once again that inflation is still ruling at elevated levels... It will be interesting to see how RBI balances the concerns arising from the persistent inflationary pressures in the domestic economy and the impact of the continuing global financial turmoil," Dhanlaxmi Bank head (Policy & Research) Rajrishi Singhal said. 
Both Crisil's Joshi and Deloitte's Chakravarty said that RBI will continue with its monetary tightening if inflationary pressure persists.

The RBI has already hiked interest rates 11 times since March 2010 to tame demand and curb inflation.  In its Economic Outlook for 2011-12 released earlier this month, the Prime Minister's Economic Advisory Council projected headline inflation to remain high at around 9 per cent till October.

The report also said that while pressure from food inflation has fallen in recent months, the rate of price rice still remains quite high, with the possibility of a further surge in coming months.

Earlier this week, the government informed Parliament that demand-supply mismatches were responsible for the current inflationary situation in the country. PTI