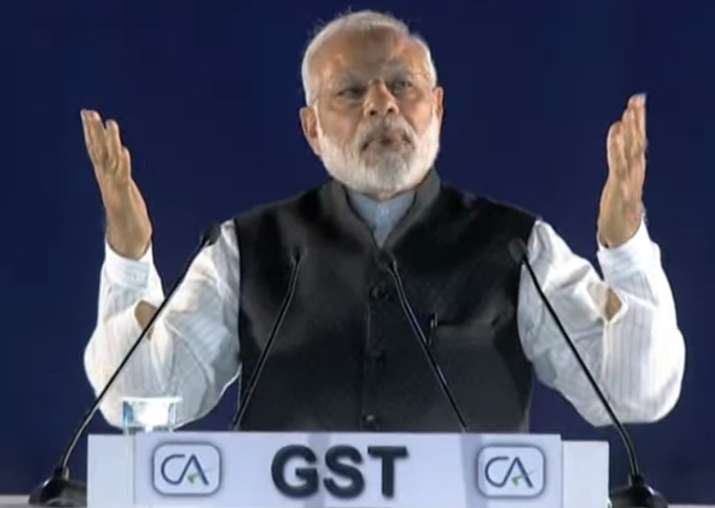 Signaling a stringent crackdown on tax evasion and black money, Prime Minister Narendra Modi today said that post-demonetisation data-mining has shown that over 3 lakh registered companies indulged in suspected dealings and 1 lakh such companies were deregistered on June 29. PM Modi, addressing a gathering of of trade associations, chartered accountants and various chambers of commerce and industry at the foundation day of the Institute of Chartered Accountants of  India (ICAI), said that the government was committed to strict action against companies that were involved in hiding black money. 
"Over 37,000 shell companies have been identified and my government is committed more tough action against firms helping in hiding black money," he said, adding "we are not concerned about political implications". The Prime Minister further said that the government's actions were based on only half of the data-mining exercise and that there was more to come. 
PM Modi further cited the data of Swiss banks released recently, which showed a sharp dip in the money Indians kept in these safe havens. As per the latest data published by central banking authority Swiss National Bank (SNB), money parked by Indians in Switzerland's banks nearly halved to 676 Swiss francs (about Rs 4,500 crore) in 2016, marking the biggest ever yearly decline in such funds. 
"Impact of our steps to check black money is clear from latest figures of Swiss banks, where Indians' money has dipped to record low. People with black money will face more difficulties when Switzerland begins automatic information exchange with India in 2 years," he said. 
"On one hand, there is the Swachh Bharat Abhiyaan and on the other, there is a movement to clean the nation from the menace of corruption,"PM Modi said speaking of his government's efforts to eradicate corruption and black money. "Our government has taken a tough stand against those who have looted the nation. Those who have looted the poor will have to give back what they have looted."
"A country where a select few loot, such a nation cannot scale new heights. These select few never want the nation to grow," he said.
Earlier, the Prime Minister launched the revised syllabus of Institute of Chartered Accountants of India (ICAI) education and training programmes here at chartered accountants' apex body's foundation day function today. After more than a decade, the ICAI introduced updated syllabus for students with major revisions from today. On July 1, 2017, ICAI, a statutory body established by an Act of Parliament will complete 68 years of its formation.
Calling Chartered Accountants a 'big pillar' of the Indian economy, the Prime Minister said that technological innovations should be brought in place to meet global standards. 
The Prime Minister said that "it was a good coincidence that July 1 was the foundation day of ICAI and the launch day of the Goods and Services Tax (GST) regime". He also launched a new CA course at the event. 
"You (CAs) take care of the economic health of the country and you are famous world over for your knowledge and financial skills. You are a big pillar of the Indian economy," Modi said, adding that "I am hopeful the new course will boost the financial skills of people joining this profession."
"We need to develop a dynamic system in our institutions and human resources to meet the global benchmarks and requirements," he opined.
"We will have to see how we can bring technology in the CA field. If chartered accountant firms think of technological innovation, new software, it will open a new market for you," he told the gathering.
He said that "when taxpayers are misguided or given unscrupulous advice, they are likely to follow a wrong path."
Urging the CAs to take the lead in the journey towards India's economic growth, the PM said, "We will always remember how the community of professionals took a lead during the freedom struggle of India. Your signature carries immense faith, please do not break that trust that is placed on you." 
"​If you know anyone with black money, warn them that they would not be spared," Modi added.
Citing the launch of landmark GST regime, Modi said "it was a moment of honor for him to present here on this historic occasion as it commemorates the foundation day of the reputed institution."
"GST implementation is dawn of a new era in India. It means 'good and simple tax'," he said.
At the stroke of the midnight hour yesterday, President Pranab Mukherjee and PM Modi launched the ambitious pan-India indirect tax regime, the GST to bind the country into a regime of 'one nation, one tax, one market'. The roll-out was done in Parliament's Central Hall in the presence of Vice President Hamid Ansari, Speaker Sumitra Mahajan and several others. 
Speaking on the occasion, PM Modi had said that the new regime will put an end to harassment of honest traders and small businesses while integrating country into one market with one tax. He also said that the GST will make the system more transparent and will help the government and institutions to end corruption and check black money.