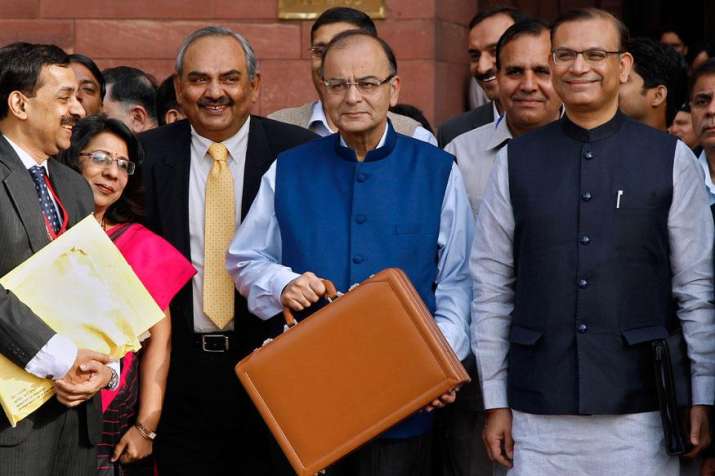 Amid speculations that Budget 2017 could be postponed after former Union Minister and Indian Union Mulsim League leader E Ahamed passed away last night, the government sources have said that Finance Minister will present the Budget today as scheduled.
#Budget2017 copies reach Parliament pic.twitter.com/K88Pw2WDDR

— ANI (@ANI) February 1, 2017
FM Arun Jaitley and ministry officials with #Budget2017 , FM leaves for Rashtrapati Bhavan pic.twitter.com/ygMebJT3Xv

— ANI (@ANI) February 1, 2017
Lok Sabha speaker Sumitra Mahajan is expected to take a call on the matter. Mahajan will consult the Lok Sabha Secretary General, Parliamentary Affairs Minister Ananth Kumar, opposition leader Mallikarjun Kharge and the Attorney General before deciding on the change in format. 
Minister of State for Finance Santosh Gangwar said that chances are that the budget can be postponed for a day, but Speaker will take the final call.
Normally house is adjourned on death of sitting MP, so chances are budget can be postponed for a day,but Speaker will decide:Santosh Gangwar pic.twitter.com/mp6GPAbrwF

— ANI (@ANI) February 1, 2017
According to tradition, in the event of death of a sitting Member of Parliament (MP), the House adjourns for a day, after mourning the member's death. 
There are possibilities that the Budget will be presented in the Rajya Sabha alone or it could be presented post lunch session. Also there is a likelihood that the Budget will be presented in Lok Sabha after which both Houses will be adjourned for the day. 
The 78-year-old Ahamed died at 2:15am at RML hospital where he was admitted on Tuesday and put on artificial life support.
The MP from Kerala's Mallapuram suffered a cardiac arrest during the President's address to the joint sitting of Parliament yesterday.
Prime Minister Narendra Mod and Finance Minister Arun Jaitley expressed their grief on the demise of Mr Aahamed. 
Saddened by the demise of Mr. E Ahamed, a veteran political leader who served the nation with great diligence. My condolences.

— Narendra Modi (@narendramodi) February 1, 2017
Condolences on the sad demise of Mr. E Ahamed, a veteran parliamentarian & former Union Minister. May the departed soul rest in peace.

— Arun Jaitley (@arunjaitley) February 1, 2017
Meanwhile, Finance Minister Arun Jaitley is all set to present the Union Budget 2017, breaking the 92-year-old practice of presenting it on the last working day of February. Also, it will be the first time when a combined Union and Rail Budget will be announced.
Expectations are running high to boost the Indian economy which suffered a blow from the government's demonetisation move, particularly sectors like agriculture and retail which are largely dependent on cash transactions. 
The Economic Survey for 2016-17, tabled in Parliament by Mr Jaitley on Tuesday, pegged India's economic growth at 6.5 per cent for the current fiscal year, down from 7.6 per cent recorded in the last financial year, but added that growth is expected to rebound in the range of 6.75-7.5 per cent in 2017-18.