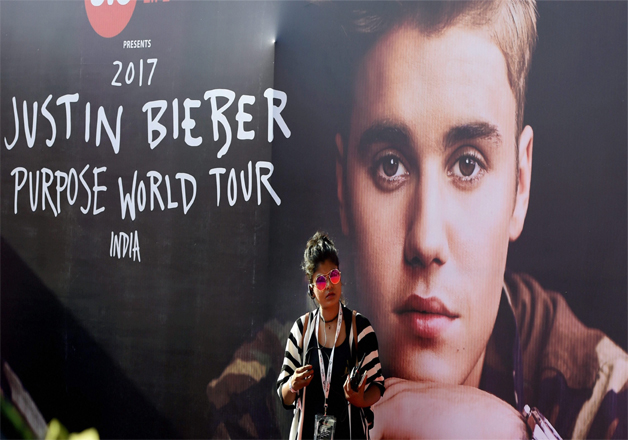 Justin Bieber's much awaited India concert was heavily flooded with stars especially from Bollywood and around. In spite of the presence of many high-profile guest in Bieber's concert, it couldn't turn out to be hit show in India. 
Although, much hype was created for Bieber's show and it was expected that it will turned out to be a best concert in India. But unfortunately, Beiber's show failed to meet the expectation of audience. 
Bieber's show started late: 
As per the sources Bieber's show started a little late than the scheduled time which disappointed fans as they were made to wait for long hours to have a glimpse of the Canadian pop sensation. 
Bieber's Guitar mistuned:
Bieber's concert started at around 8:20 pm, but when he just started to play his guitar, he realised it was mistuned. But Bieber anyhow just continued to finish the song.
Lip Syncing:
Bieber started the show with his popular tracks Baby and What Do You Mean and continued to with few other hit tracks. Fans were literally having good times when they realised that Bieber was lip syncing the tracks, which disappointed them badly. 
malaika Arora at Justin Bieber concert

Sridevi at Justin Bieber concert

Alia Bhatt, Bipasha Basu at Justin Bieber show