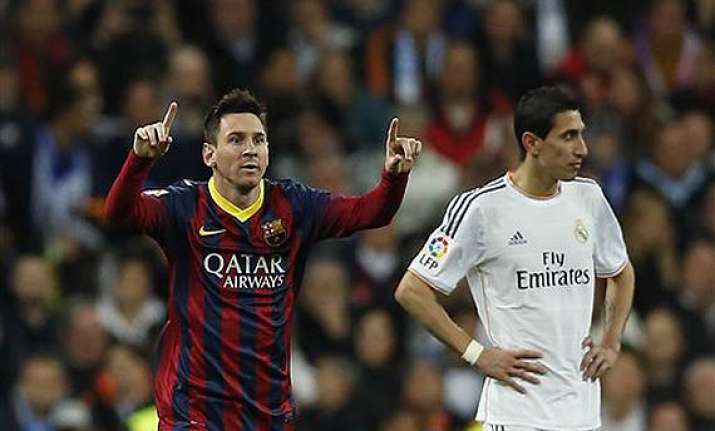 Madrid : There were opinions across the spectrum after Barcelona defeated Real Madrid 4-3 the Santiago Bernabeu Stadium here in Spanish Primera Liga.
Sunday night's 'El Clasico' game will be remembered for a Leo Messi hat-trick, with two of the goals coming from the penalty spot, while one of Real Madrid's goals was also a penalty, reports Xinhua.
TV replays showed that referee Undiano Mallanco had probably got two of the calls, one for each side, incorrect. The red card he showed to Real Madrid's Sergio Ramos which came as a consequence of the first penalty he gave Barca after Neymar appeared to dive in the Madrid area, was also a mistake.
Real Madrid coach, Carlo Ancelotti commented that, "some decisions could have penalised us, but we have to think about our next game in Sevilla," adding that the penalty which saw Ramos sent off was, "the key action in the game", although he admitted he has "not seen the penalty".
Cristiano Ronaldo was less gracious in defeat and although Madrid's penalty came after he was clearly fouled outside of the Barca area and should not have been given. He attacked the referee, one of the most experienced in Spain, saying, "we have to have a referee with the category to referee this kind of game".
"There are people who didn't want us to win and Barca to be out of the title race. I have been here a long time and when Madrid wins it causes envy," added the striker.
Real Madrid defender, Alvaro Arbeloa tweeted after the game that it was "always the same story", with referees, while Sergio Ramos said, "it is a disgrace, I hope Undiano Mallenco doesn't referee us again."
In the Barca camp, defender Gerard Pique said that his side had "won the game as we deserved to do".
The Spain international also made light of Ronaldo's complaints. "When they come out of the dressing room they are still fired up and you don't need to take it seriously," he said.
"The team always responds in the big games. We knew we wanted to win to get back into the title race and now we can't afford any slip ups," said Messi, whose hat-trick again puts Barca right back into the title race.
Meanwhile, Xabi Hernandez gave his backing to the referee. "The referee was fair, I've been told the penalty from Alves on Ronaldo shouldn't have been given and we didn't protest. I would have refereed like Undiano," said the Barca captain.