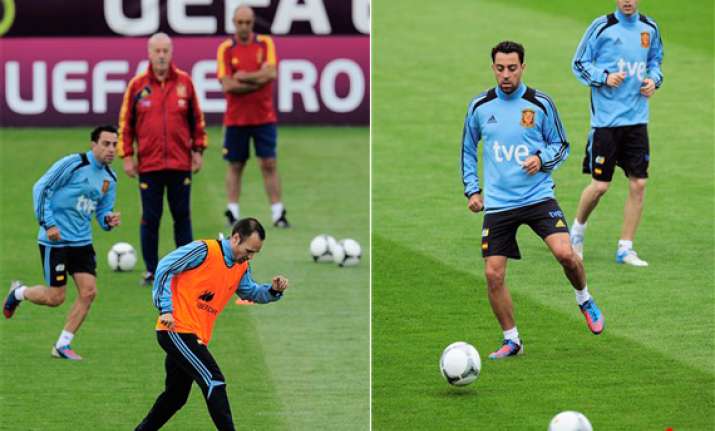 Gdansk, Poland, Jun 22:  Desperate to find a sense of unity, the French squad only needs to look at Spain and its leading player Andres Iniesta as role models.
Les Bleus will get a very close view Saturday, facing Iniesta and his teammates in the European Championship quarterfinals.
Iniesta has quietly been the standout player of Euro 2012, twice voted man-of-the-match after exemplifying the Spanish "band of brothers" mentality.
France, meanwhile, continues to grapple with the fallout from a strife-torn 2010 World Cup and the retirement of players from the Zinedine Zidane era.
Spain's tremendous run of results since winning Euro 2008 comes from a collective spirit in a team packed with Europe's top footballing talent.
"You have to have heart if you play Spain," France coach Laurent Blanc said ahead of the match at the Donbass Arena in Donetsk.
So while Iniesta is no stranger to heroics, the soft-spoken 28-year-old midfielder never boasts about it, despite his knack of being able to deliver when it really matters for club and country.
Iniesta's stoppage-time equalizer at Stamford Bridge earned Barcelona a dramatic victory over Chelsea and a place in the 2009 Champions League final, where the the Spanish club won the first of 14 trophies over four seasons.
And while every Barcelona fan remembers where they were that night, everyone in Spain remembers July 11, 2010, when Iniesta's extra-time goal gave Spain a 1-0 victory over the Netherlands and its first World Cup.
With all-time leading scorer David Villa missing due to injury, Iniesta has had to take command of Spain's attack.
Although that doesn't necessarily mean scoring goals, it does mean that his ability to break down defenses with his dribbling runs becomes all the more important.
"He's an incredible player," Spain teammate David Silva said. "When you play with him, everything is so much easier."
Iniesta balked at being given the tag of team leader at the start of the tournament, but he has progressively assumed the role alongside captain Iker Casillas. Iniesta has often defended coach Vicente del Bosque over tactics that have put him and fellow playmakers Xavi Hernandez, Silva and Cesc Fabregas as the focus of Spain's attack.
A photograph of Iniesta surrounded by five Italy players has been making the rounds in the Spanish media, and its symbolism has not been lost on the player himself.
"That is satisfying, and extra motivation, because it means the opponent is paying more attention to you and watching you closely," Iniesta said. "Our task is the task of getting better, to achieve what we did in 2008 but with even greater difficulty.
We'll try to reach the semifinals and make people proud of us again. That's our mindset."
Iniesta's personality fits perfectly with Spain's sense of team spirit. It also highlights the stark contrast with France's players, whose 2-0 loss to Sweden sparked a locker room bust-up that also revealed a lack of leadership.
Iniesta celebrated his assist to Jesus Navas in a 1-0 win over Croatia with his teammates. In a very different style, France midfielder Samir Nasri celebrated his equalizer against England by running alone to the edge of the field, making a "Shut your mouth" gesture toward the French press.
France appeared to have turned things around with its first two Group D matches, but the Sweden game opened up old wounds that had been covered up by a 23-match unbeaten run.
Should France recover its form and collective spirit, it does have history on its side. France has never lost in six competitive matches against Spain, earning five wins, including one in the second round of the 2006 World Cup.
However, France central defender Philippe Mexes is banned, leaving makeshift pairing Laurent Koscielny and Adil Rami to face Iniesta and Spain's attack.
The defending champions should improve on their workmanlike victory over Croatia since they will be coming up against a like-minded team that seeks possession.
France also has problems up front, where forwards Franck Ribery and Karim Benzema remain without a goal between them at the tournament.
Spain's attack could meanwhile be led by Fernando Torres for a third straight game.Or Iniesta and the six-man midfield.
Either way, the one certainty on Saturday is that Spain, at least, will play as a team."When we win, we all win," Iniesta said. "And when we lose, we all lose."