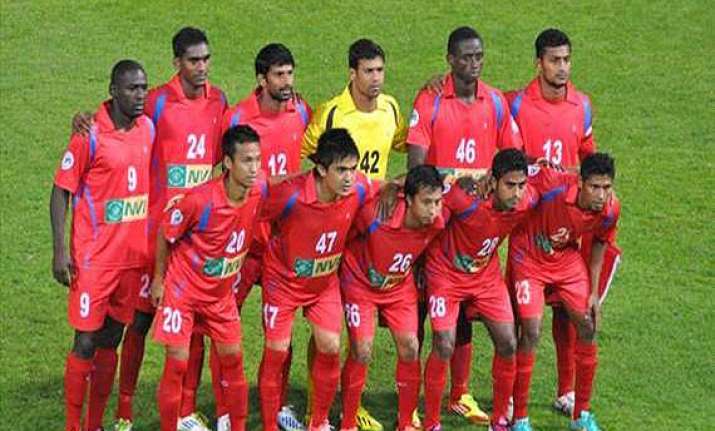 Margao :
Churchill Brothers will take on New Radiant of Maldives tomorrow in their first home match of the Group E league match of the AFC Cup at Nehru Stadium, Fatorda here.
Both the teams have played one match each so far, with Churchill Brothers having lost to Persipura Jayapura and New Radiant winning against Home United.
Churchill Brothers did not show the same kind of spark they showed while winning the Federation Cup, losing against Persipura Jayapura in their opening match of the AFC Cup and again losing to Bengaluru FC in the I-League.
However, coach Mariano Dias has faith that they will play to their potential and win tomorrow, since it's importantto win after losing their  first away match.
Against Persipura, the players were a bit tired after the long journey and could not give their best, he said.
"Our performances in the I-league has improved as we have won and drawn two from the eight matches we have played last. We have played nine matches at a stretch, of which we have won six, drew two and lost one against Bengaluru FC.
We still have six matches. All we need is a strong mind to play to our potential. I hope that the boys will give their bestand win all the remaining matches," Dias said.
Dias said New Radiant were a good side, having seen them play in Singapore against Home United.
"They play as a team and beat Home United, Singapore.
It is important that we win the match tomorrow, as we will play at home and stay in the competition after losing against Persipura Jayapura. We have  couple of injuries. Striker Balwant Singh and keeper Lalit Tapa is ruled out for tomorrow's match. But we have good replacements who are capable of  doing well in their absence," Dias said.
On the other hand, New Radiant had a good season last year, as they made it to the quarter-finals of the AFC Cup,where they  lost to Kuwait FC who won the championship.     
"This year, we have made a lot of changes in our team and will be missing Ali Iswaq who was the vice-captain who has left us to join Malaysian team.
The boys are all good and are capable of giving a good performance," Ali of New Radiant said.
New Radiant coach Ismail Anil said most of the his players play for the national team.
"Our concern is that we have not started the local league this season and it has deprived the team of playing competitive games. But the win against Home United in the AFC Cup has boosted our confidence and we are looking for their second win," he said.
Asked if they have watched Churchill Brothers play earlier, he said, "We have seen them play and we expect a good fight against them tomorrow."
Both the teams are playing for the first time after the stadium was renovated.
"The ground here is the same we have at home and the weather is also similar. We will know the condition of the turf only after playing tomorrow," Anil said.