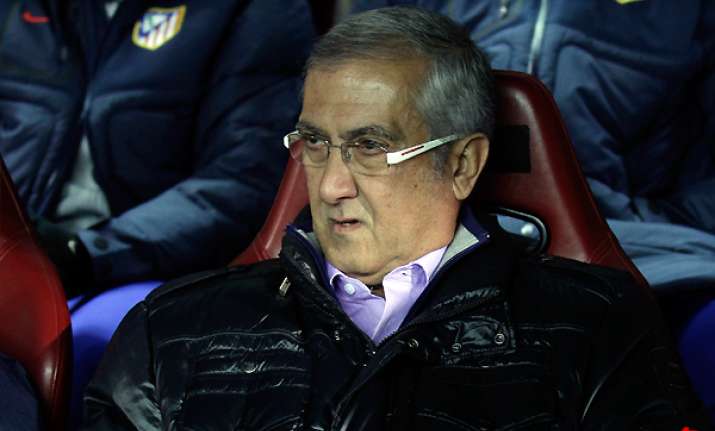 Barcelona, Dec 20: With the pressure mounting on coach Gregorio Manzano, Atletico Madrid needs to overturn a 2-1 loss at third-tier club Albacete to stay in the Copa del Rey.

Atletico, which is winless away from home in seven Spanish league matches this season, also lost to 10-man Real Betis at home Sunday, prompting calls for Manzano's removal.

Manzano said he won't quit, but elimination from the Copa del Rey by a lower-division team would increase the chances that the veteran coach won't return to Atletico's bench following the Christmas break.

"It is my responsibility (to prepare the team) and that's my job for Wednesday," Manzano said.

The 55-year-old Spaniard, who is in his second stint with the club, knows he will be a target if his team fails to make good on its away goal and doesn't advance out of the fourth round.

"(Vicente Calderon Stadium) is a breeding ground for dissent right now, I understand that. The fans are very sensitive, and with any slip there are protests," Manzano said. "It is an atmosphere that we have to control because it doesn't favor the team."

Atletico can count on top scorer Radamel Falcao, who did not play in the first leg, as well as strike partner Adrian Lopez.

"It's tough to send (positive) messages to the fan base when things are going poorly, but we have rebounded from worse situations that this," Atletico defender Alvaro Dominguez said. "We have one game left before the end of the year and we have to think about how to pull it out so we can move on."

Also, defending champion Real Madrid hosts third-division club Ponferradina on Tuesday. Madrid enters the match with a 2-0 advantage after Jose Callejon and Cristiano Ronaldo scored in the opening leg.

Madrid coach Jose Mourinho may give Callejon a third-straight start after he also scored in Madrid's 6-2 rout of Sevilla on Saturday. Ronaldo scored a hat trick in that match to take his scoring tally to 25 goals in all competitions this season.

"Two-zero is a good result but it is not definitive," Mourinho said. "If they score a goal, it will put the series in doubt. But I have confidence in my players who don't play as much. Until now they have only given me reasons to trust them. They need and deserve the chance to play."

The Portuguese coach said that 22-year-old left back Jorge Casado would start, while Madrid defender Sergio Ramos will miss the game with a left thigh strain.

Barcelona also hosts a third-division opponent on Thursday. Andres Iniesta's goal gave the league champions a 1-0 win at Hospitalet in the first leg.

Barcelona's biggest concern will likely be its weary legs after returning from Japan, where the team won the Club World Cup for the second time in three seasons.

Seven of the team's South American players, including forward Lionel Messi, as well as Mali midfielder Seydou Keita have been given an early start to the holidays and will miss the game.

Also Tuesday, Espanyol hosts second-division club Celta after their scoreless draw, Sporting Gijon plays Mallorca with a 1-0 lead, and Sevilla hosts third-tier club San Roque with a 1-0 advantage. Betis must overcome a 1-0 loss at Cordoba, while Levante needs to come back from a 3-1 loss to Deportivo La Coruna on Wednesday.

Also on Wednesday, it's: Zaragoza vs. Alcorcon; Villarreal vs. Mirandes; Malaga vs. Getafe; Osasuna vs. Almeria; Granada vs. Real Sociedad; Rayo Vallecano vs. Racing Santander; and Athletic Bilbao vs. Oviedo.

Valencia hosts Cadiz on Thursday after they drew 0-0 in the first leg.