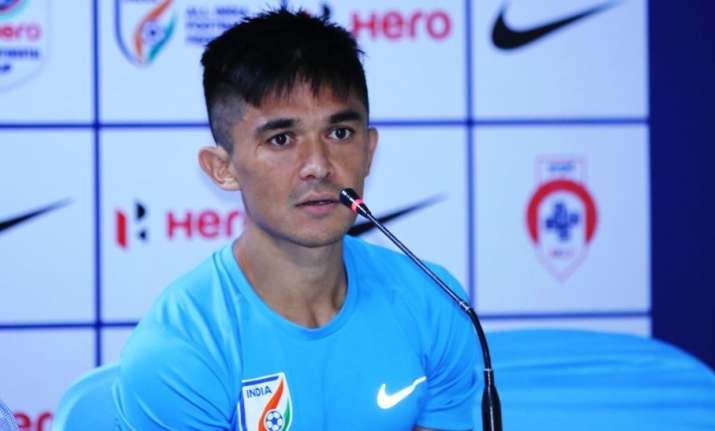 Indian football skipper Sunil Chhetri on Saturday uploaded an emotional video on his Twitter account where the striker was seen pleading all Indians to come and support the team during their International matches.
Chhetri, who starred in India's 5-0 victory over Chinese Taipei, scored a hat-trick which now sees him as the world's third highest International scorer, after Cristiano Ronaldo (Portugal) and Lionel Messi (Argentina) in the top two. 
One of the most underrated footballers, Chhetri, has a simple and humble request from all Indians to come and support the team in the ongoing Four-Nation International Cup between India, Kenya, New Zealand and Chinese Taipei. 
The Indian skipper thanked the fans who were present at the stadium when India routed Chinese Taipei 5-0, but his message was for the people who could not turn up due to various reasons.
"All those from the country who came to Mumbai to support us – amazing. All the fans from Mumbai who came and watched us, thank you so much for the encouragement. It means the world to us."
"But today I am not making a video for you guys. I am gonna speak and appeal to all of you who did not come. To everyone who is not a football fan, please come and watch us for two reasons. No. 1 – it's the best game in the world and No. 2 – we play for our country. We will make sure that once you come to watch us, you will not return the same person back home."
This is nothing but a small plea from me to you. Take out a little time and give me a listen. pic.twitter.com/fcOA3qPH8i

— Sunil Chhetri (@chetrisunil11) June 2, 2018
Chhetri addresses fans who have lost hope in the team, "To all of you who are fans of big European clubs and support European clubs with so much passion, thinking that the level is not the same. Agreed, the level is not the same, it is not even close. But with our desire and determination, we will make sure to make your time worth. To all of you who have lost hope, I request you to come and watch us in the stadiums."
The Indian skipper is requesting all to come and watch even if they are non-football fans. He also mentioned to all the people who can only talk on social media, to it in the stadium when they play.
"I mean, it is not fun to criticise or abuse on the internet. Come to the stadium. Do it on our face. Scream at us, shout at us, abuse us. Who knows, one day it might change you guys or you might start a chain for us."
"To all of you fans who could not come or did not come due to delay, work, school, please come and watch us in the stadiums. You guys have no idea how important you are and your support is. So today I am requesting all of you to come support us on 4th, 7th and hopefully 10th June when we are playing in Mumbai. Encourage us, watch us, abuse us, criticise us, talk about the game, go back home and have discussions, make banners but please get involved."
India are on an unbeaten streak at the moment and have a chance to win the International Cup after their dominant performace against Chinese Taipei.
"This is a very important time and juncture in Indian football and football in India needs you guys. So here am requesting you, come and support us, in Mumbai and wherever we play. Jai Hind!"