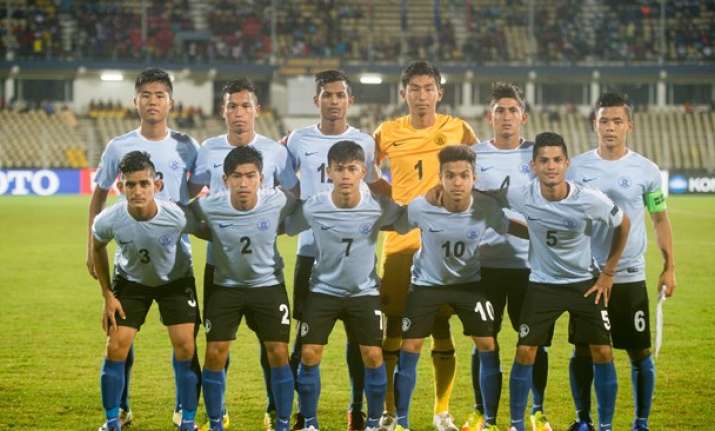 India's FIFA U-17 World Cup team coach Luis Norton de Matos refused to predict his side's chances in the upcoming tournament, saying that instead of thinking about the results the country should take it as "a first step for the future". 
India are drawn in a tough Group A along with former champions Ghana, Colombia and USA. De Matos dropped enough hints that his side may not reach the knock-out stage of the competition, beginning on October 6. 
"It is difficult to build a strong team in seven months but we have done what we can in this short time. There is a gap between India and the other teams, say from Europe and South America," said de Matos. 
"So, I don't think much about the results and chances but I know my players will give their best. That is what they can do. I see this World Cup as a step forward for the future (for India). India can build on this experience," said the Portuguese tactician when asked about the home team's chances in the tournament. 
De Matos, who took over as the head coach of the U-17 team in March after the sacking of Nicolai Adam, was speaking to the reporters on the sidelines of a programme to wish good luck to the Indian team by Hero MotoCorp, the 'national supporter' of the tournament. 
Elaborating further, he said, "I was in Egypt in 1997 edition. New Zealand were participating for the first time and they lost all their group matches, including a 0-13 thrashing by Spain. But since then they have done very well at this level. India should be thinking to do like that." 
Since 1997, New Zealand have taken part in six editions before the upcoming one in India and have reached knock-out stages twice. 
"Building on this experience, I believe India can be at par with other countries at this level (U-17) in eight to 10 years. And after these 8-10 years, I hope seven to eight players from the current U-17 team should be in the senior national team in the prime of their career. That will serve Indian football well," de Matos said. 
He assured that the country's football fans will be proud of the performance of the Indian players. 
"There are three words to describe this fantastic moment of Indian football. First is Faith and we should have faith in the team. Second is Hope which connects dreams and any dream is possible to realise, and lastly Love: we should love what we are doing," said the 63-year-old de coach. 
"I can assure the people and football lovers of India that they will be proud of these boys because they are going to fight till the last like lions and they will become heroes of this country," he added. 
De Matos also virtually laid down his playing strategy for the team, which would be a strong defending and attacking on the counter. 
"We will be strong in defence, will look not to concede goals, especially would not like to concede early goals. Then we will look for quick and strong transitions and see that we can score in these transitions," he said. 
"A team can play attractive football but lose a game or a team can play not so attractive but still win. I think we will try to play a mixture of these two," he added. 
Team captain Amarjit Singh Kiyam said his players were ready to give they're all in the first-ever FIFA tournament in the country. 
"There is no pressure on us nor are we nervous. We are confident of doing well in the tournament. We are playing in the first FIFA World Cup and we are ready to put our lives to do well for the country," he said. 
"The preparations have been very good and we are looking forward to the tournament. We have seen videos of how United States (first match opponents) play. Anything can happen in a game of football and we will give out best to win matches," he added. 
India face USA in their campaign opener on October 6 before taking on Colombia (October 9) and Ghana (October 12). All India's matches will be played at the Jawaharlal Nehru Stadium here. 
Meanwhile, Hero MotoCorp MD and CEO Pawan Munjal wished the team good luck for the tournament.