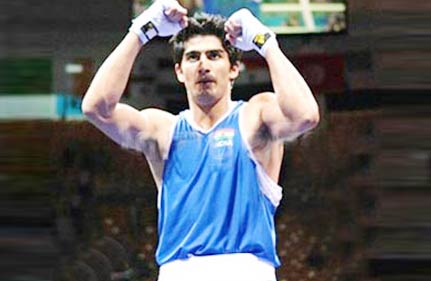 Guangzhou, Nov 20: World number one Vijender Singh (75kg) out-slugged Korea's Deokjin Cho to enter the semifinals and assure himself of at least a bronze medal in the boxing competition of the Asian Games here today.
The 25-year-old Olympic and World Championship bronze-medallist got the better of Cho 13-2 in a one-sided contest at the Foshan Gymnasium here to take the total number of Indian boxers in semifinals to three -- the other two being Dinesh Kumar (81kg) and Paramjeet Samota (+91kg).
The dashing Haryana-pugilist, who won a bronze in the previous Asian Games in Doha, will now face Mohammad Sattapour of Iran in the semifinals.
Earlier in the day, Amandeep Singh blanked Pakistan's Muhammad Waseem to make the light flyweight 49kg quarterfinals. The Commonwealth Games bronze medallist will face Filipino Iii Victorio Saludar in the last-eight stage.
Vijender, who had disappointingly settled for a bronze in the Delhi Commonwealth Games last month, took advantage of his long reach and imposing built against a rival who struggled to match his speed and power.
His deft footwork helped Vijender dodge several of Cho's attacking attempts and the Korean found it hard to respond to the counter-attacks that the Indian launched.
Leading 3-0 after the opening three minutes, Vijender also benefitted from the desperation shown by Cho.
The Korean ended up hitting Vijender below the waistline during one of his attempted attacks, inviting a warning which added two points to the Indian's tally.
Vijender too received a warning for clinching Cho in the eventful second round during which the Korean was also thrown off balance by one of the world number one's power-packed hooks. PTI