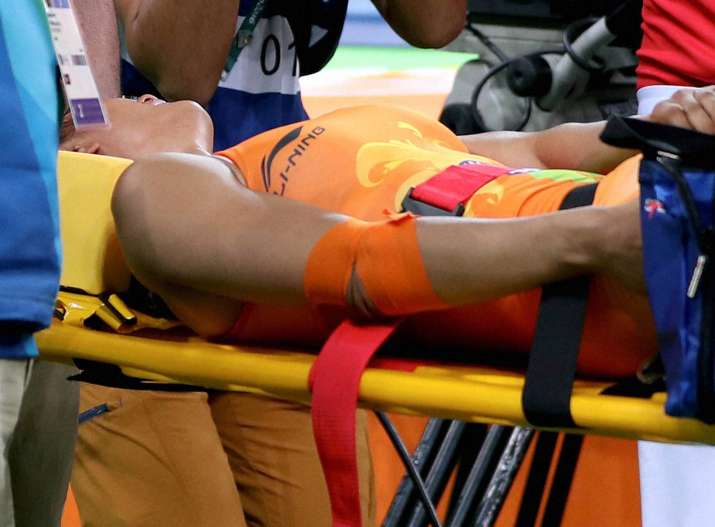 After scoring wins in initial rounds, Indian women wrestlers Sakshi Malik and Vinesh Phogat crashed out of their respective weight divisions in Rio Olympics on Wednesday. 
Sakshi Malik lost in the quarterfinals of 58kg while Vinesh Phogat was stretchered off after suffering a knee dislocation during her quarterfinal bout at the Rio Olympics here today. 
Vinesh's campaign is over after she retired hurt following a dislocation of her right knee half-way into the first period of her 48kg quarterfinal fight against China's Sun Yanan. 
First point of the quarterfinal bout went to Vinesh with her Chinese opponent showing passivity but Sun Yanan soon hit back with a single-leg takedown to earn two points. The Chinese suddenly pinned the Indian down in an awkward position and Vinesh sustained an injury to her right knee, which forced her to forfeit the bout 1-2. 
The 21-year-old, who was touted as a medal prospect for India, was seen grimacing in pain as she was treated for about five minutes before being stretchered off for medical treatment. 
She would not be able to fight in the repechage round even if the Chinese reach the final of 48kg. 
"We all are awaiting MRI report but she cannot fight again," India's Chef de Mission, Rakesh Gupta said. 
"It seems she has dislocated her right knee. The medical scan will exactly reveal the nature of the injury," coach Kuldeep Singh told PTI, giving a preliminary update. 
In pre-quarters, Vinesh had an easy outing in 48kg category as she thrashed Emilia Alina Vuc of Romania 11-0 by technical superiority to enter the quarterfinals. 
Although she twisted her right elbow in the first 20 seconds of the bout, Vinesh did not let that bother her. 
Meanwhile, Sakshi went down in the quarterfinals of 58kg after losing 2-9 to Valeria Koblova of Russia. Earlier, she had made strong comebacks in both her initial round bouts to advance to the quarterfinals.

 

After conceding one point in the first period of her quarterfinal fight because of passivity, Sakshi did well to earn two points in the second period with a take-down. 
But the Russian girl, with enormous strength, hit back to pocket four points before gaining another two to take a 7-2 lead. She earned two points again to win the bout 9-2 and make the semifinals. 
If the Russian manages to reach the gold-medal bout, Sakshi will get a shot at the bronze with a chance to fight in the repechage round. 
After coming back from a 0-4 down to post an impressive 5-4 win over her Swedish opponent -- Malin Johanna Mattsson -- in the qualification round, Sakshi eked out a narrow 5-5 win against Mariana Cherdivara Esanu of Republic of Moldova in the pre-quarters. 
In the opening period of the pre-quarterfinal bout, Sakshi got 30 seconds to earn points but she failed and that gave Cherdivara a point.