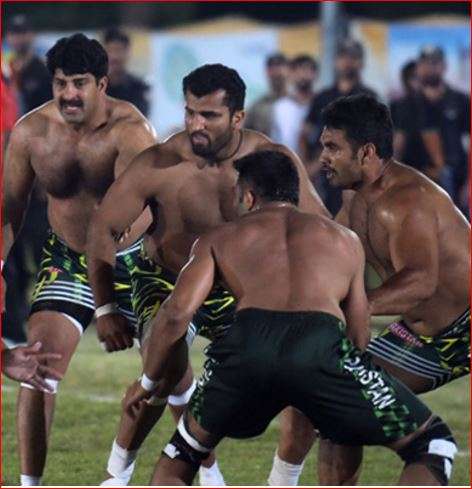 Pakistan has been barred from participating in 12-nation Kabbadi World Cup starting this week in India.
According to news agency AFP, International Kabaddi Federation (IKF) chief Deoraj Chaturvedi has confirmed that Pakistan has been denied entry because of a spike in tensions between the two nuclear-armed nations.
"This is not the right time to engage with Pakistan," Chaturvedi told the news agency.
"Pakistan is a valuable member of the IKF but looking at the current scenario and in the best interest of both the nations, we decided that Pakistan must be refrained from the championship," he added.
Kabbadi World Cup kicks off in Ahmedabad on Friday with formidable Iran clashing with the newcomer United States in the opening round. The tournament will witness participation of top sides from Australia, South Korea, England, Poland, Kenya and Argentina.
Since the Kabbadi World Cup is being organised after a gap of nine years, all the participating teams are very enthusiastic over their chances in the two-week long event. 
Pakistan, however, has accused the IKF of unfairly targeting the country, saying both rival nations should have been excluded if there were security concerns.
"We have called a meeting to discuss this issue but let me tell you that a Kabaddi World Cup is no world cup without Pakistan," Pakistan kabaddi federation secretary Rana Muhammad Sarwar told AFP.
"This is just like a football world cup without Brazil," he added.
Pakistan captain Nasir Ali has also expressed his disappointment over his team being barred from participating in Kabbadi World Cup.
He pointed out that  his players had been favourites to clinch the cup after defeating India at the six-nation Kabaddi Cup held in Pakistan in May and last month's Asian Beach Games in Vietnam.
"We were hoping to win the world cup in India by beating India," Ali told AFP.
On October 1, organising committee's president and Punjab cabinet minister Sikander Singh Maluka had said that the situation following the surgical strike by Indian Army was not receptive for inviting Pakistan for the Kabbadi World Cup.
"The situation in the state following the surgical strike by Indian Army at the LoC does not augur well to invite Pakistan for the World Cup scheduled to be held between November 3 and 17," Maluka had said.