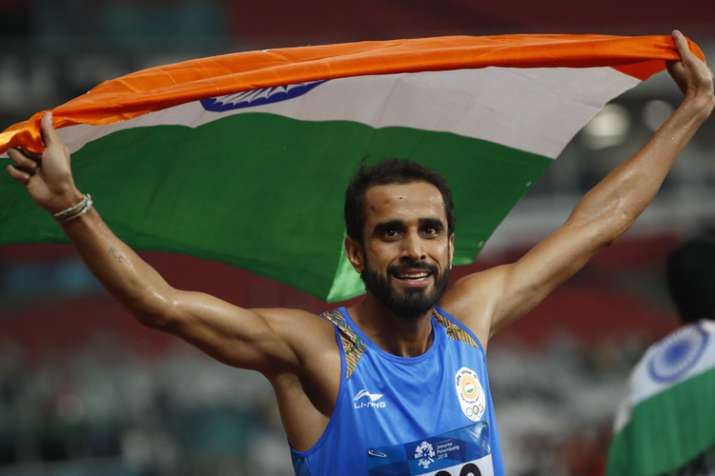 Little-known Manjit Singh stole the limelight by leading a rare one-two finish for India in the men's 800m at the ongoing Asian Games 2018 in Indonesia.
Manjit was not a much-talked about medal prospect in the build up to the Asian Games but he brought home the third gold for India after shot putter Tejinderpal Singh Toor and javelin thrower Neeraj Chopra's heroics.
The jobless Manjit pipped pre-race favourite and national record holder Jinson Johson to take the gold in 1:46.15. Jinson, who beat Manjit while shattering legendary Sriram Singh's 42-year-old national record in the National Inter-State Championships in June, clocked 1:46.35.
Now after achieving his goal, Manjit is desperate to see his five-month-old son and let him know about his achievement. Manjit has not yet met his son since he was born. 
"Can you imagine what it is like for a father to not see his newborn son? I've wanted so much to meet him and hold him in my hands. I want to meet my son. I want to show him my gold and let him know what his father achieved," Manjit told espn.in.
It was India's only second one-two at the Asian Games as Ranjit Singh and Kulwant Singh had won a gold and a silver at the inaugural edition in New Delhi in 1951.
Manjit's gold was also the first after Charles Borromeo's feat in the 1982 Asian Games.
Coached by Indian Army's Amreesh Kumar, the jobless Manjit bettered his personal best mark of 1:46.24 set in Guwahati during the National Inter-State Championships.
Manjit, who will turn 29 on September 1, said a months ago he was told that he was "too old to improve".  
"On March 31, I was told my sports contract with ONGC would not be renewed. They told me I wasn't having any performance of value and that I was too old to improve. No one believed in me then. Very frankly I was depressed," Manjit was quoted as saying by espn.in.
However, Manjit, whose father is a dairy farmer in Haryana's Jind, never lost hope in his abilities.
"I was very hopeful. I had prepared accordingly. I never thought of bettering the national mark. I just wanted to give my best. I had strategised to follow runners initially and then push towards the last 100-150m. I did it and won gold for my country," Manjit was quoted as saying by PTI.
(With PTI Inputs)