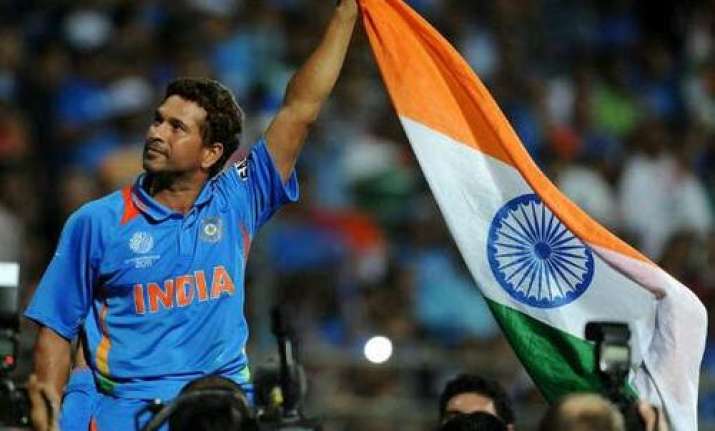 Greats yes, heroes yes, even legends yes..  the world has seen many of them..sportsmen, actors, writers, politicians..they have all dazzled the world with their brilliance and left their fans in despair when they called it quits. Yet inevitably, they all faded or were dislogded off their pedestal by some new hero or legend, but is there any exception? Is there anyone who still is, and forever will be, what he meant to his fans- "The God". To me, certainly..  
SACHIN...SACHIN....SACHIN...SACHIN....
This 'anthem', will reverberate in my ears till i stop breathing.
Thank you Sachin for the most amazing years of Indian Cricket...You have given millions a reason to be inspired...
Sachin picked the bat when he was 11... at the age of 16, he made his test debut and represented India internationally for about 24 years. He's the only player with 100 international centuries, the first batsman to score a double century in ODIs, and the only one to reach the 30,000 runs mark in international cricket.
 
On this day, the god of cricket was born! 
Sachin Ramesh Tendulkar is widely regarded as the Greatest Batsman in the history of cricket. Blessed with superhuman ability and limitless talent, he has firmly secured his place in the Pantheon of sporting greats. But for us Indians, he is much more than just an ordinary cricketer. He is the God of Cricket. A Special postage stamps have been released in honour of Sachin's exceptional contribution to Indian sports...although Tendulkar's wizardry wasn't just restricted to his batting. He was known as the "Man with the Golden Arm" and ended up with almost 200 wickets against his name!
Sachin....the first and only Sportsperson to be conferred India's highest civilian award-the Bharat Ratna. 
So lets treat ourselves with his achievements as there's much to learn from the Master Blaster.
Adapt
T20 was a relatively new format as compared to the 50 over ODIs and test match tours. Tendulkar adapted himself and fit in quite easily. It's not for nothing that cricket legends praise him. West Indies superstar Vivian Richards said, "He is 99.5% perfect. I'll pay to watch him play. I think he is marvellous. I think he will fit in whatever category of Cricket that has been played or will be played, from the first ball that has ever been bowled to the last ball that's going to be. He can play in any era and at any level".
You too must learn to accept change. Adapt. Adopt measures for sailing smooth. The road will be bumpy, but not necessarily. Keep going forward.
Don't let criticism affect you
 
You too will face such situations in life. It's natural to feel gutted when you're criticised, but that shouldn't keep you away from staying focused on your goals and doing what you do best. There are times when you will make mistakes. You must then accept and acknowledge and find ways to better yourself. Some people will criticise you even when you're doing well - take that with a pinch of salt. 
Grab every opportunity to learn
Be observant. Surround yourself with people who have something to teach you on how you can be better at doing what you're doing.
Sachin knew who to listen to and fortunately he was a quick learner and adhered to advice from experienced colleagues. On his first tour to England, Sachin seemed to be struggling, but when Sunil Gavaskar told him to play the ball late, he did exactly that and went on to score his first test century at Old Trafford in Manchester.
Here are different ways to lead
Sachin's two tenures as captain of the Indian cricket team weren't fruitful and he humbly stepped down and focused more on his game. This however, didn't mean that he wasn't helping his team mates or advising the team when required. He did not hesitate to put forth his opinions in the dressing room, bucked up the batsman at the other end off the pitch and had their backs even when he wasn't a captain. He remained a part of strategic processes. The same applies to you too. You may not always become the leader of the pack, but that shouldn't keep you from speaking up for the benefit of the team.
Impossible is nothing
After scoring his 100th century against Bangladesh in 2012, Sachin said, "Chase your dreams, they do come true". Doesn't it say a lot about the mettle of this man who's revered by cricket fans worldwide?
If you have your eyes set upon a target given to you, then give everything to it. At the risk of sounding clichéd, remember that the only thing that can come between you and your goals is your will.
With 15921 Test runs and 18426 ODI runs, Tendulkar is the highest ever run-score in international cricket. 
His retirement speech made a billion Indians cry
In short, there was and always will be just one god of cricket. Happy Birthday, Sachin Ramesh Tendulkar.