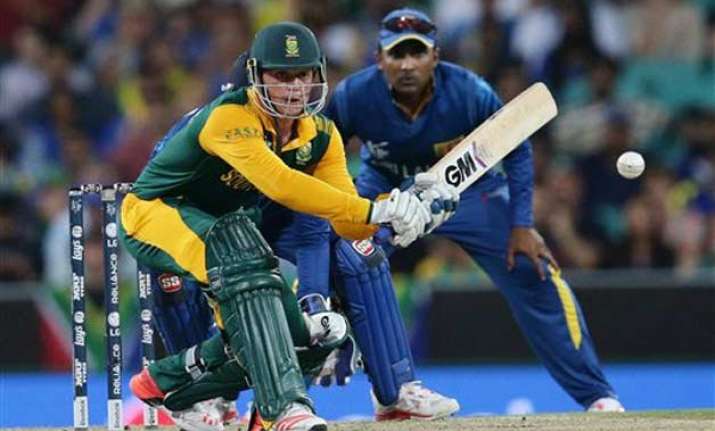 Sydney: With two of the master batsmen in international cricket facing each other, there's a good chance the Cricket World Cup quarterfinal between Sri Lanka and South Africa will be decided by the contribution either of Kumar Sangakkara or AB de Villiers.
Imran Tahir is adjudged as Man of the Match for his amazing 4-wicket haul which dented Sri Lankan innings.
After Imran Tahir and JP Duminy shared seven wickets between them, Quinton de Kock and Hashim Amla played with composure to brush aside opposition's challenge and help South Africa reach the semi-finals. While chasing down a modest target, de Kock and Amla looked to play aggressively, and it was obvious that South Africa would coast towards victory.
The South African players shake hands with Sangakkara and Jayawardene. Miller has a long chat with the former. Now Sanga and Mahela hug each other.
Sangakkara waves to the crowd as he walks off the field. Sri Lanka would have wanted to give both the legends a fitting farewell by winning the cup, but it was not to be. They couldn't have asked for better.
Quite emotional scenes out there in the middle. This was the last match for Sri Lankan veterans Kumar Sangakkara and Mahela Jayawardene.
South Africa 134/1 after 18 overs
Quinton de Kock 78 (57), Faf du Plessis 21 (31)
South Africa are in the semis. This is the first time that South Africa have won a knock-out match in World Cup cricket. Full and outside off stump, de Kock crashes the drive wide of mid-off and it rockets to the boundary. He punches the air in delight and shows the bat to the dressing room
South Africa 110/1 after 15 overs
Quinton de Kock 61 (47), Faf du Plessis 15 (23)
South Africa are very close to seal their semi-final spot. Quinton de Kock has silenced his critics with a half century and he would be happy to be in form on the right time for South Africa.
South Africa 61/1 after 10 overs
Quinton de Kock 34 (29), Faf du Plessis 7 (10)
Malinga provided Sri Lanka their first major breakthrough by dismissing Hashim Amla. Quinton de Kock after his poor run form in group stages, have managed to score a 30 plus score and is looking good. The win for Sri Lanka is far from here, but if South Africa chokes once again, they will be in the semis.
Lasith Malinga will resume his bowling having two balls remaining of his 4th over.
Quinton de Kock is walking out with the new batsman Faf du Plessis.
South Africa are set to resume their innings after the break.
==============
Sri Lankan win is almost uncertain here but can their spinners do the same job as South African spinners did?
On that note, the umpires have decided to take the supper break. The first session was extended because of the rain earlier. South Africa are off to a very good start. Although Amla has been dismissed, the momentum is still with them.
South Africa 40/1 after 6.4 overs
Quinton de Kock 22 (18)
Hashim Amla c Kulasekara b Malinga 16 (23)
OUT! Malinga gets the first breakthrough or has he? Short and wide outside off stump, Amla reaches out and cuts, doesn't bother to keep it down. Third man runs to his right, dives and takes a good low catch. Umpire checks for a no-ball but the replay shows that there was some part of his shoe behind the line. And it's out!
South Africa 32/0 after 5 overs
Hashim Amla 11 (15), Quinton de Kock 20 (16)
An ideal start for South African openers, particularly for Quinton de Kock who has been out of form. He has already scored 3 boundaries off Kulasekara in one over and not spared Malinga as well. Amla started the innings with a boundary on the first ball and after 5 overs, it's the start that the proteas wanted to have. de Kock has the opportunity to impress the selectors who have shown faith in him.
Amla on strike and Malinga has the new ball.
South African openers Quinton de Kock and Hashim Amla are walking in upto the middle. Lasith Malinga is doing some stretching exercise.
There will not be a big break because the innings finished earlier than the scheduled time.
=======================
Sri Lanka then got a bit of respite as it started to rain and play was stopped for a brief period. South Africa should be able to chase down this target. For Sri Lanka, it is imperative that they take wickets with the new ball to have any chance of winning the game.
Imran Tahir and JP Duminy's splendid spells helped South Africa to skittle out the opposition for a modest total. Tahir, with his variations, kept the Sri Lankan batsmen in check and was rewarded for his efforts with four wickets. To put the icing on the cake, Duminy too snaffled three wickets and became only the first South African to pick up a hat-trick in World Cups. None of Sri Lanka's batsmen seemed to pick Tahir's googly and clever changes of pace. Even Kumar Sangakkara, who has amassed four back-to-back hundreds in this World Cup, struggled for timing and placement. In particular, Mahela Jayawardene looked all at sea against Tahir.
The decision of batting first after winning the toss didn't turned up to be fruitful for Sri Lanka. They had a slow and poor start which continues even after the halfway stage and wickets tumbled on a regular basis.
Sri Lanka 133 all out after 37.2 overs
Dushmantha Chameera 2 (5)
Lasith Malinga c Miller b Tahir 3 (6)
OUT! That's all over for Sri Lanka. Short and wide outside off, Malinga has cut straight to the fielder at cover. Tahir finishes with a four-wicket haul.
Morkel to resume his spell.
Unbeaten Dushmantha Chameera is in the middle with Lasith Malinga on the strikers end
Sun is out and players are back on the field, warming up a bit.
The covers have been removed and the umpires are out for inspection. So we should restart pretty soon. That was just a minor delay.
Match delayed by rain
Players are walking off. It is raining quite heavily here. But do remember, there is a reserve day for the match tomorrow if it does not resume today. South Africa are certainly not a happier side after rain. They want to finish it today itself.
Sri Lanka 127/9
Kumar Sangakkara c Miller b Morkel 45 (96)
OUT! And Sanga is gone and so the rain arrives! short and wide, Sanga goes for a cut..... and holes out at deep third man! The big man departs in his final innings with the rain giving him a fitting farewell.
Sri Lanka 116/8 after 35 overs
Kumar Sangakkara 34 (88), Dushmantha Chameera 0 (4)
Unbelievable stuff from JP Duminy here. He has taken a hat-trick and becomes the first South Africa to achieve the feat. Sri Lanka struggling to score even 150 from here. However Sangakkara is still out there and it will be great to watch how he takes the innings further. This could be his last outing for Sri Lanka if they lose this match.
Dushmantha Chammera is in at no. 10
Sri Lanka 116/8
Tharindu Kaushal lbw b Duminy 0 (1)
OUT! Duminy has taken a hat-trick here! This was a good length ball but doesn't turn as much. Kaushal was camped deep in his crease and was playing all around it. Plumb in front
Sri Lanka 116/7
Nuwan Kulasekara c de Kock b Duminy 1 (2)
OUT! Caught behind. Huge nick and Tucker didn't give it out immediately. Kula walked as he saw the bowler and keeper celebrating.
Sri Lanka 115/6
Thisara Perera c Rossouw b Tahir 0 (3)
OUT! Tahir gets his third. SL in huge trouble now. Again Tahir doing the trick. Cramps him for room, his slider gets on quickly to Thisara who was trying to back away and punch into the covers. Only ends up with an outside edge that sits snugly in slip's hands.
Thisara Perera is in at no. 7
Sri Lanka 114/5
Angelo Mathews c du Plessis b Duminy 19 (32)
OUT! flighted delivery from way outside off by Duminy. Mathews tried to whip it off through midwicket but de Plessis at short mid-wicket takes another good catch.
Sri Lanka 105/4 after 30 overs
Kumar Sangakkara 29 (76), Angelo Mathews 14 (24)
Definetely a poor show by Sri Lankan batsmen today. After 30 overs, they are scoring at the rate of just around 3.5 rpo. Sangakkara is batting on 29 off 76 but he is still out there and that's what Sri Lanka wants the most. A short delivery from Morne Morkel inged the glove and ricocheted onto the shoulder while trying to duck under the ball. Both the batters are on the backfoot after the collapse of the top order. South Africa really want couple of wickets more before the batting powerplay.
Sri Lanka 87/4 after 25 overs
Kumar Sangakkara 22 (64), Angelo Mathews 3 (6)
South Africa is all over Sri Lanka now. After three early wickets, Jayawardene's dimissal was nothing but like adding salt to Sri Lanka's wound. He was in all kinds of trouble against the spin and with spinners Tahir and Duminy bowling from both ends, it would not be an easy task for the batsmen to score even 200 as 250 is a par score here.
Angelo Mathews is in at no. 6
Sri Lanka 81/4
Mahela Jayawardene c du Plessis b Tahir 4 (16)
OUT! Imran Tahir is on fire! Quick, on middle, skids on and Mahela has presented a simple catch to short midiwcket.
Sri Lanka 72/3 after 20 overs
Kumar Sangakkara 15 (51), Mahela Jayawardene 1 (5)
At a time when the partnership was flourishing, Imran Tahir bowled a superb delivery to dismiss Lahiru Thirimanne for 41. Sri Lanka are under pressure and with the two legends Jayawardene and Sanga on the crease, a good total is still expected.
And incomes another big man Mahela Jayawardene
Sri Lanka 69/3
Lahiru Thirimanne c & b Tahir 41 (48)
OUT! Caught and bowled by Tahir. A legbreak from round the wicket, pitches on a length, just outside off, Thirimanne looks for a single to long-on, the ball stops a little. Thirimmane looks to punch it off to to mid-on but hangs it straight onto the bowler.
Sri Lanka 50/2 after 15 overs
Kumar Sangakkara 6 (40), Lahiru Thirimanne 32 (34)
Sri Lanka lost first two wickets for just 4 runs, and since then Thirimmane and Sangakkara built a decent run stand of 46 off 66 balls. The duo has done well so far to rebuild the innings and need to pump up the run rate from here. Sangakkara have scored just 6 off 40 balls but he need to accelerate his innings as well.
Sri Lanka 35/2 after 10 overs
Kumar Sangakkara 2 (23), Lahiru Thirimanne 27 (21)
After two quick wickets, Thirimanne looks in great touch with the bat. He is striking the ball hard and have aleady scored five boundaries while Sanga at other end seems to be struggling for some runs. Out of 23 balls faced, he have scored just 2 runs.
Sri Lanka 6/2 after 5 overs
Kumar Sangakkara 0 (11), Lahiru Thirimanne 1 (2)
A perfect start for the South African bowlers here with both Steyn and Abbott picking up a wicket each of Dilshan and Kusal Perera. Two down in first five overs and the pressure is on Sangakkara and Thirimanne to build a solid stand from here. Meanwhile Steyn looked in some discomfort with his back of the neck but he is fine.
Lahiru Thirimanne is in at no. 4
Sri Lanka 4/2
Tillakaratne Dilshan c du Plessis b Steyn 0 (7)
OUT! back of a length delivery outside off by Steyn. Dilshan went for the cut and edged it behind, the edge was dying on 2nd slip's right who moved smartly and cupped it low.
Kumar Sangakkara walks in at no. 3
Sri Lanka 3/1
Kusal Perera c de Kock b Abbott 3 (10)
OUT! Terrific delivery from Kyle Abbott, he forced Perera to defend and gets the thick outside edge. Good catch by Quinton de Kock.
Kusal has the strike and Steyn to start off the proceedings in the first quarterfinal of the ICC Cricket World Cup 2015.
And the Sri Lankan openers Kusal Perera and Tillakaratne Dilshan are walking in.
The national anthems of the teams are being played.
Sri Lanka (Playing XI): Kushal Janith Perera, Tillakaratne Dilshan, Kumar Sangakkara(w), Mahela Jayawardene, Lahiru Thirimanne, Angelo Mathews(c), Thisara Perera, Nuwan Kulasekara, T Kaushal, Lasith Malinga, Dushmantha Chameera
South Africa (Playing XI): Hashim Amla, Quinton de Kock(w), Faf du Plessis, Rilee Rossouw, AB de Villiers(c), David Miller, Jean-Paul Duminy, Dale Steyn, Kyle Abbott, Morne Morkel, Imran Tahir
Rangana Herath is not fit so we have drafted in Tharindu Kaushal.
Toss time: Sri Lanka won the toss and have elected to bat
It's a new pitch they are using today. Rock-hard, few little cracks but that won't come into the picture. Beautiful batting strip. Nice even covering of grass. Expect a little bit of pace and bounce for the seamers. Not much spin as well.
With Rangana Herath being injured, the Lankans also miss out on a quality tweaker. If Malinga doesn't bowl at his best, the likes of Dushmanth Chameera and Seekkuge Prasanna are too inexperienced to trouble the Proteas batting line-up.
There is no doubt that South Africa are one of the strongest teams in world cricket on paper. They have two formidable batsmen at the top in Hashim Amla and Faf du Plessis and AB can step up on the gas in latter part of the innings with his innovative style of play.
Their bowling attack too is the best in the business with the troika of Dale Steyn, Morne Morkel and Vernon Philander having the reputation of ripping through the best batting line-ups. However, Quinton de Kock's form at the top of the order and that missing fifth bowler are two areas the Proteas need to work upon.
Ahead of the tournament, Sri Lanka weren't the favourites, but the kind of form Kumar Sangakkara is in, the Angelo Mathews-led side can certainly make life difficult for AB de Villiers and his boys as they lock horns at Sydney.
Interesting, it's going to be a ODI debut for Tharindu Kaushal. It's a big match against a robust team.
He replaced Farhaan Behardien and Kyle Abbott is playing in place of Vernon. 
du Plessis has recovered from a lower back injury that forced him to miss the game against UAE. So that leaves only one batting spot for either Farhaan Behardien or Rilee Rossouw. The bowling attack picks itself.