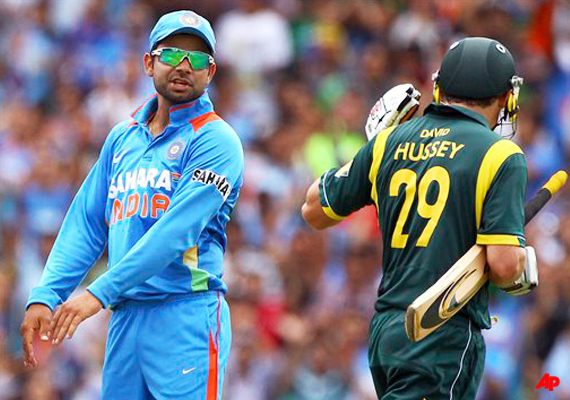 Hobart, Feb 28: Star Indian batsman Virat Kohli today lashed out at the Australian players for not playing in the spirit of the game in his side's tri-series match against the hosts in Sydney on Sunday.

The match between India and Australia at the SCG, which the latter won by 87 runs, witnessed two controversial decisions by the umpires who turned down 'obstructing the field' appeal by the visitors against David Hussey and Brett Lee.

Sachin Tendulkar was apparently blocked by Lee while running for a single, leading to the Indian batsman's run out.

David Hussey was not given out when it seemed that he had stopped the ball, directed to the stumps, by his right hand.

Kohli justified the appeals by his side and even claimed that David Hussey took a one-bounce catch.

"According to us, it was evident to naked eye. It was not on. It wasn't in the spirit of the game. Why shouldn't we appeal for something that's wrong. If it is in rule book, why shouldn't we appeal," said Kohli, who smashed an unbeaten 133 to guide India to an incredible seven-wicket win over Sri Lanka today.

"There's no point. You can crib about it as much as you want, why did they claim one bounce catch. David Hussey himself claimed a catch (about Kohli himself in Sydney) which clearly I can see it wasn't the way. They should see themselves before pointing fingers at others. I think what we did was totally right according to us," he said.